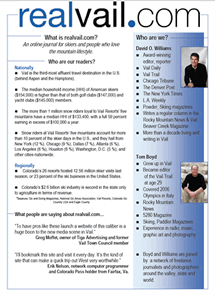 Welcome to realvail.com
RealVail is an online journal for skiers and people who love the mountain lifestyle. Any skier or rider knows the best way to get quality information about a ski resort is to ride a lft with a local and ask a few questions.
Imagine how pleased a visitor would be to find themselves riding up a charilift with a group of veteran ski journalists who have lived in Vail a combined 48 years. (With our talented blogger pool, it's over 200 years). Now imagine that same information available on one easy to use website: www.realvail.com.
Along with our daily ski blogs, which provide all the real beta on ski conditions, visitors to realvail.com can type any question they wish into our "Contact: Ask A Local" interactive forum and comment on all of our stories and blogs. Our panel of RealVail local will provide prompt and honest answers.
RealVail offers readers straightforward stories including topical coverage of the snow sports industry, environmental issues, outdoor recreation, real estate, travel, dining, lodging, arts and entertainment, and breaking news. RealVail offers:
Calender of major events and attractions
Local insight on where to stay, where to play, and what to do
Snow, weather, and road reports
Industry links to related topics
Network of professional journalists offering invaluable perspectives through their stories and blogs
Dining guide of area restaurants, including capsule reviews
How to
contact

realvail.com

To find out more about the different products we offer and to understand the great potential in advertising with realvail.com, please use this form to contact us or send us an email at advertise@realvail.com. If you prefer to reach us by phone you may also call us at (970)331-3715. We will provide you with options for reaching an affluent demographic that loves Vail.
What is
realvail.com

?

An online journal for skiers and people who love the mountain lifestyle
Who are our
National

readers?
Vail is the third-most affluent travel destination in the U.S. (behind Aspen and the Hamptons)
The median household income (HHI) of American skiers ($154,000) is higher than that of both golf club ($147,000) and yacht club ($145,000) members
The more than 1 million snow riders loyal to Vail Resorts' five mountains have a median HHI of $133,400 with a full 59 percent earning in excess of $100,000 a year
Snow riders of Vail Resorts' five mountains account for more than 10 percent of the skier days in the U.S., and they hail from New York(12%), Chicago(9%), Dallas(7%), Atlanta(6%), Los Angeles(6%), Houston(6%), Washington, D.C.(5%), and other cities nationwide.
Who are our
Regional

readers?
Colorado's 26 resorts hosted 12.56 million skier visits last season, or 23 percent of the ski business in the United States
Colorado's $2.6 billion ski industry is second in the state only to argriculture in terms of revenue.



* Sources: Ski and Skiing magazine, Nationa Ski Areas Associtations, Vail Resorts, and Colorado Ski Country USA
What people are
saying

about realvail.com
"To have like pros like these launch a website of this caliber is a huge boon to the new media scene in Vail."


Greg Moffet, owner of Tiga Advertising and former Vail Town Council member
"I'll bookmark this site and visit it everyday. It's the kind of site that can make a quick trip out West very worthwhile"


Erik Nelson, network computer programmer and Colorado Pass holder from Fairfax, Va
Testimonial
comments

from RealVail.com
bobby — January 11, 2008
I cannot begin to tell you how much we enjoy your entire website. We live on Hilton Head island in S.C. and come once a year with our four sons and daughter in laws. Feb.25 th week this year. Your articles are read everyday and just keeps the juices flowing till we get there in 6 weeks. Thank you for all your efforts. Bobby
"The anatomy of the hour-and-a-half ski day"
http://www.realvail.com/TheOReport/185/The-anatomy-of-the-hour-and-a-half-ski-day.html
Gerry — January 10, 2008
Love this story. My wife and I started like the Kushners-- bought a share at the Austria Haus, then a full unit at the Cascades and last year bought a lot in Cordillera to build on in the future. Our hope is to move to Cordillera full time in the next 5-6 years. Till then we have our Cascades condo that we use as often as possible.
"Multi-home trend supplanting second home ownership"
http://www.realvail.com/RealEstate/160/Multi-home-trend-supplanting-second-home-ownership.html
Megan — January 13, 2008
Share some of that snow out east will ya?! We need it bad!!!!
"A "rediculous" week of skiing"
http://www.realvail.com/ChrisAnthonysCorner/189/A-rediculous-week-of-skiing.html
Steve — January 24, 2008
Thanks for the insight on deals. You always have great information and I am so glad I saw these discounts. With only 10 days on my CO pass, this 2-for-1 is going to help out! What's up with $92 for a lift tic?!?!
"Real deals: a look at discounts coming up in ski country"
http://www.realvail.com/TheFrontRanger/212/Real-deals-a-look-at-discounts-coming-up-in-ski-country.html
bobby — January 11, 2008
Although I wasn't a Ravino I was there from 1976-1989 and took part in several St. Paddy's Day productions on First Steps. The Ravinos were "the Bam" back then! Chi Bear was an icon.
Ravinos legend, spirit lives on in Vail Valley"
http://www.realvail.com/RealLives/32/Ravinos-legend-spirit-lives-on-in-Vail-Valley.html