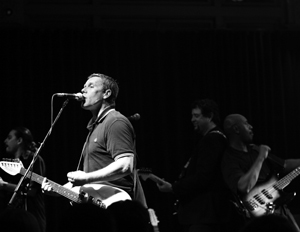 The English Beat get the Street Beat concert series started this Wednesday at 6 p.m. at Checkpoint Charlie in Vail.
Photo courtesey of the Vail Valley Foundation
vvf.org
Blog Tools
Comments
PermaLink
See a show, win a car
Budweiser Street Beat gets under way Wednesday at 6
By Tom Boyd
December 17, 2007 — All things considered, I don't really NEED a new car, but I'll take one just the same.


If it's a 2008 model Volvo C30, that's OK with me, too. Not a shabby little number, that one.


If I really want to up my chances of winning I probably shouldn't be telling you this, but a car will be given away at the kickoff to the FREE Bud Light Street Beat concert series this Wednesday at 6 p.m. at Check Point Charlie in the Vail Village.


This year's Street Beat is a bit of an upgrade from previous years, as not one but TWO cars will be given away this season, and bigger names will headline the Street Beat events through the winter. You can read more about this, and see the schedule, by clicking HERE

What's the scoop?
Parking is free at the Vail and Lionshead parking structures after 3 p.m., and entrance to the show is free (did I mention that?).
To get to Check Point Charlie park at the Vail Parking Structure and head across the covered bridge. Take a right onto Gore Creek Drive (at Gasthof Gramshammer's) and you'll see the concert.
This week's band will be English Beat, a band with roots in Working Class England which formed in 1979 and has been rocking ever since. Their side projects have become famous in their own right, as members of The Beat formed the bands General Public and The Fine Young Cannibals.


Check out a video of their hit, "Mirror in the Bathroom" by clicking on the YouTube link below.


Comment on "See a show, win a car" using the form below