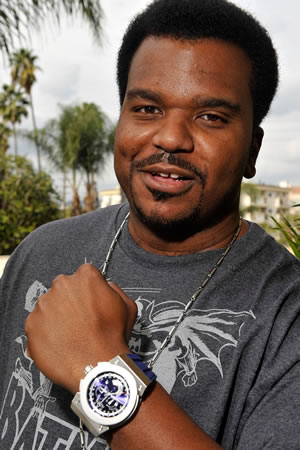 Craig Robinson, host of NBC's "Last Comic Standing."
Courtesy of
vilarpac.org
NBC's 'Last Comic Standing' coming to Beaver Creek in January of 2011
By realvail.com
June 9, 2010 — Start the new year out laughing with an evening of great stand-up comedy, featuring the finalists from NBC's popular laugh-fest "Last Comic Standing," as the official NBC tour comes to Beaver Creek's Vilar Performing Arts Center Jan. 9, 2011.

The seventh season of the Emmy-nominated comedy competition series, hosted by Craig Robinson of NBC's "The Office", will be shown this summer, the premier episode airing on June 7. The "Last Comic Standing Live Tour" will feature the finalists from the popular series.

As with previous seasons, talent scouts in Los Angeles and New York will watch and judge performances from aspiring and professional comedians. In addition to the open casting calls, "Last Comic Standing" will invite some of the best and brightest comics from all over the country to participate in the competition.

Robinson, star of the feature film "Hot Tub Time Machine", in addition to "The Office", will host the nationwide search for the funniest comedian in America, and reward him or her with a $250,000 prize plus an exclusive talent deal with the network.

Tickets for the Last Comic Standing Live Tour are priced at $60 and are available online at vilarpac.org, by phone at 888.920.ARTS(2787) or in person at the Vilar Center box office in Beaver Creek. Tickets are available online 24 hours a day; the box office is open Monday through Friday from 11 a.m. to 5 p.m. MST, with additional hours on performance days.

The Vilar Performing Arts Center is a project of the Vail Valley Foundation. For more information on the Vail Valley Foundation, visit vvf.org.


Comment on "NBC's 'Last Comic Standing' coming to Beaver Creek in January of 2011" using the form below