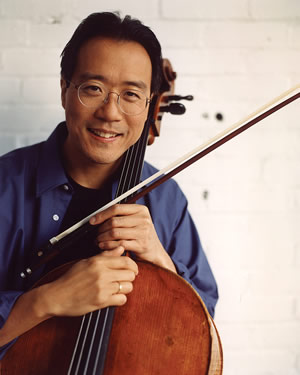 Yo-Yo Ma will take the stage at the Ford Amphitheater June 26 with local kids from the First Notes, Celebrate the Beat and Bravo! Young Composers programs.

Yo-Yo Ma celebrates imagination with local children at Vail amphitheater June 26
By realvail.com
June 2, 2010 — When the Vail Valley's school children first became involved in a number of arts education opportunities, they never imagined they would someday share the stage with one of the world's foremost classical performers.

That dream will come true on Saturday, June 26, as the Bravo! Vail Valley Music Festival and the Vail Valley Foundation welcome none other than world renowned cellist Yo-Yo Ma to celebrate the arts with the children of the First Notes, Celebrate the Beat and Bravo! Young Composers programs at the Gerald R. Ford Amphitheater in Vail. Dubbed "Imagination Celebration: Adventures in the Arts", the free festivities are scheduled to run from 9:00 a.m. to 11:30 a.m.

"As a longtime friend of Yo-Yo Ma, I am thrilled that he will be coming to Vail to perform a recital at Bravo!," offered Eugenia Zukerman, Bravo! Vail Valley Music Festival Artistic Director. "His generosity in staying on to participate in our collaborative
Imagination Celebration speaks to his passion for arts education. We are very excited about this unique event."

Ma is strongly committed to arts educational programs that not only bring young audiences into contact with music but also allow them to participate in its creation. While touring, he takes time whenever possible to conduct master classes as well as more informal programs for students—musicians and non-musicians alike.

"Having Yo-Yo Ma participating in our Imagination Celebration is a tremendous opportunity for the children of the Vail Valley to work alongside and with one of the world's greatest artists," explained Damian Woetzel, director of the Vail International Dance Festival.

Woetzel collaborates with Ma on his Silk Road Connect program in the New York City Public Schools and also works with him on a variety of other projects.

"This unique event is a natural extension of Yo-Yo's profound belief that the arts must be an integral part of every child's education," Woetzel added. "When I asked him if he would join us for this, he was excited to see and experience the inspiring arts education programs we are lucky enough to have in Vail. It's wonderful that Bravo! and the Foundation have joined together to make this happen for Vail and to give local children this once-in-a-lifetime opportunity."

Imagination Celebration will feature individual performances by third through fifth graders of Celebrate the Beat, the second grade First Notes orchestra and Bravo! Young Composers Ben West and Jeremiah Johnston. Ma and Bravo's Artistic Director and flutist Eugenia Zukerman and percussionist Mark Trevino are slated to accompany West and Johnston on their original composition titled "Coyoyote".

Ma will also accompany second grade string and horn musicians for a lively rendition of "Twinkle, Twinkle Little Star" and team up with freshman pianist Katherine Bellino for Camille Saint-Saens' "The Swan". The program concludes with Ma performing Bach as accompaniment to a dance finale featuring Celebrate the Beat student dancers.

Brought to Vail in 2007 in conjunction with the Vail International Dance Festival, Celebrate the Beat, directed by Tracy Straus, exposes elementary school students to dance education programming, while motivating them to believe in themselves, value artistic expression, develop creativity and teamwork and instill a personal standard of excellence.

First Notes was introduced to Avon Elementary School this past fall in an effort to introduce students to the world of instrumental music, live performance and the concept of achieving success through hard work, dedication, determination and passion.

The Bravo! Young Composer Project gives students the opportunity to work directly with members of the New York Philharmonic to compose their own music. Concerts featuring the new compositions are held at area libraries and performed by New York Philharmonic musicians.

For additional information on the June 26 Imagination Celebration with Yo-Yo Ma, contact the Vail Valley Foundation at 970-949-1999 or the Bravo! Vail Valley Music Festival at (970) 827-5700.


Comment on "Yo-Yo Ma celebrates imagination with local children at Vail amphitheater June 26" using the form below