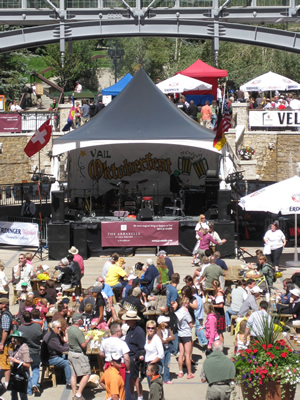 Oktoberfest is going on in Vail's Lionshead area this weekend and again next weekend in Vail Village.
Courtesy of
vailoktoberfest.com
Vail Oktoberfest on tap through the weekend in Lionshead and again Sept. 18-20 in Vail Village
By realvail.com
September 12, 2009 — It's time to dust off the lederhosen, throw on the dirndls and raise a toast to the most popular party in the world -- Vail-style. Vail's Oktoberfest, the yearly festival of beer, music and autumn, run this weekend, Sept. 11-13 in Lionshead Village and next weekend, Sept. 18-20 in Vail Village.

Emulating one of the largest celebrations in the world, the Town of Vail will host two full weekends of oom-pah-pah parties, Klement's bratwursts, Beck's beer, Jagermeister beverages and authentic German dancing demonstrations in Lionshead and Vail Villages. German spirit will be ever-present with Bavarian tunes, yodeling and alpenhorn blowing, popular activities such as the Klement's bratwurst-eating and Beck's keg bowling contests as well as a wide variety of fare being served.

"With golden aspens and crisp mountain air, September is one of the best times of year in Colorado to be in high country and partake in one of the Rocky Mountains' largest annual festivals to welcome fall," said Natalie Fandrey of Highline Sports & Entertainment, the festival producer.

Munich meets Vail in Lionshead Village beginning Friday, Sept. 11 at 5 p.m. Festival attendees will enjoy an array of German-inspired food and drinks as well as dancing to the live music from the Rhinelanders Band and Helmut Fricker.

Saturday, Sept. 12 kicks off with the annual opening Beck's keg tapping ceremony set for 1p.m. in Vail Square. Immediately following, the Rhinelanders Band with Helmut Fricker will take center stage outside the Arrabelle Hotel. In addition, a Kid's Area with children's entertainment and activities will be open from noon to 5 p.m.

Klement's bratwurst-eating contest will commence at 2 p.m., with the Beck's keg bowling contest being held at 3:30 p.m. The Austrian Duo will perform from 4:30-5:30 p.m. And, to conclude the evening local favorite Bonfire Dub will bring their groovy tunes to the Arrabelle stage for a headliner performance.

The celebration will continue on Sunday, Sept. 13 with more Bavarian fun in Lionshead Mall and Vail Square. The Rhinelanders Band with Helmut Fricker as well as the Austrian Duo will return to the stage, a Kids Area with live entertainment will be open, attendees will compete in friendly Klement's bratwurst-eating and Beck's keg bowling contests and all goers will enjoy an afternoon of German celebration. The first weekend of Vail Oktoberfest will conclude at 6 p.m.

"Vail Village will play host for the second weekend of Vail Oktoberfest, Sept. 18-20," said Fandrey. "In true Bavarian spirit, oom-pah parties will return to the streets of world famous Vail Village for three more days of fun and German camaraderie."

Friday's and Saturday's schedule of events will model those offered the previous weekend with the exception of local legend Laughing Bones headlining the Saturday evening performance at the Checkpoint concert venue in Vail Village.

On Sunday, Sept. 20 the Oktoberfest Fun Run opens the final day of Vail Oktoberfest at 9:00 a.m. Benefiting the Children's Garden of Learning, the Fun Run is a friendly competition for all ages. Categories include a 10K, a 5K run/walk and the ever-popular Kids 1K in which strollers are welcome. Registration is just $20 for adults and $10 for kids and is now open at www.vailoktoberfest.com.

It's all part of Vail Oktoberfest, Vail's annual celebration of autumn held Sept. 11-13 and Sept. 18-20. For a complete Vail Oktoberfest schedule and to register for the Oktoberfest Fun Run, visit www.vailoktoberfest.com.

From lodging starting at $99 a night to a chance to win free flights in the continental United States to discounts on a variety of Vail activities, visit www.vailallthelove.com.

Vail Oktoberfest is presented by The Town of Vail, Beck's and Jagermeister and is sponsored in part by Arrowhead Water, Klement's, Betteridge, RockResorts, Loki, Isagenix International, A Sterling Affair, Vail Daily, TV8 the official TV station of Vail and Beaver Creek Resorts and KZYR the Zephyr.




Comment on "Vail Oktoberfest on tap through the weekend in Lionshead and again Sept. 18-20 in Vail Village" using the form below