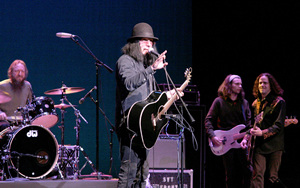 Gandalf Murphy last winter at the Vilar Performing Arts Center in Beaver Creek.
Courtesy of
vilarpac.org
Local faves Laughing Bones to join Gandalf Murphy for Vilar Center fall music series
By realvail.com
September 16, 2009 — In what should be an outstanding showcase of music, longtime locals' favorites The Laughing Bones will perform an opening set for Gandalf Murphy & the Slambovian Circus of Dreams at the Vilar Center on Saturday, Sept. 26. The concert gets under way at 8 p.m. with The Laughing Bones, followed by the folk rock of Gandalf Murphy.

"We're excited to play the Vilar Center for the first time, and also excited to open for Gandalf Murphy," said Bob Masters of The Laughing Bones. "It's definitely going to be a great night."

Tickets for the performance are $20, and are available through the VPAC Box Office at (888) 920-ARTS(2787) or online at www.vilarpac.org.

The double-header show is the first in the VPAC's Fall Singer/Songwriter series, which continues with the piano-driven pop of Vienna Teng on Oct. 24 and the insightful lyricism of Ellis Paul on Nov. 12. A special package price of $45 is being offered for access to all three shows, with individual tickets available for each show as well.

"Adding The Laughing Bones to the lineup for Sept. 26 really promises to enrich that night, and hopefully draw a great local crowd to the theater to see both this wonderful band and Gandalf Murphy as well," said VPAC Executive Director Kris Sabel. "It's a great way to kick off this singer/songwriter Series, which is aimed at offering the best music at affordable ticket prices to people in this off season."

Tickets for the fall singer/songwriter series are on sale now. The package of three shows, priced at $45, must be purchased through the box office at 888.920.ARTS(2787) or in person at the venue in Beaver Creek. Individual tickets can be purchased by phone, in person or online at www.vilarpac.org. The box office is open 8am – 5pm MST Monday through Friday, with additional hours on performance days.

The Vilar Performing Arts Center is a project of the Vail Valley Foundation. For more information on the Vail Valley Foundation, visit www.vvf.org.


Comment on "Local faves Laughing Bones to join Gandalf Murphy for Vilar Center fall music series" using the form below