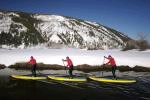 Stand-up paddling in the chilly environs of Aspen.
Courtesy of
c4waterman.com
C4 Waterman takes stand-up paddling from surf to snow at Teva Mountain Games in Vail
By realvail.com
June 2, 2010 — Some of Hawaii's most decorated and respected watermen will be in Colorado next week to compete in Teva Mountain Games, unofficially known as the Olympics of mountain sports.

Heading to the event and party scheduled June 3–6 are representatives of C4 Waterman, the Honolulu-based pioneers of stand up paddling boards and paddles.

Headlining the C4 posse are company co-founders Brian Keaulana and Todd Bradley. They will be joined by Archie Kalepa, Kalani Vierra, Jen Koki, and Bruce Raymond (Australia), all of whom honed their skills and reputations at sea level.

Now the team will be tested in the world's highest surf competition on the bone-chillingly cold, snowmelt-fed whitewater of Gore Creek, at the base of this world-renowned ski resort.

The leadership team at C4 Waterman chose Teva Mountain Games as the platform from which to propel the visibility and appeal of stand up paddling inland. C4 Waterman will be introducing SUP sprint and surfcross competition to the official roster of events at this prestigious four-day event that attracts some of the top national talent in more traditional mountain sports such as climbing, mountain biking, trail running and kayaking.

C4 Waterman will also be sharing the aloha spirit during a free public SUP demo on a small mountain lake, at the event's gear village, and at their rented mountain chalet headquarters in Vail Village. The company will host a world premier of the Prickett Films production "Waterman is More than a Word," at Vail Lodge, followed by the Ultimate Aloha SUP & Suds party at Vendetta's. There will be copious prize giveaways for those who come in their best aloha attire for the occasion.

"Obviously this is a strategic business decision," said C4 co-founder Todd Bradley, "But we're going to have a lot of fun with it too. Who knows, with the crazy spring Colorado's been having, we may just see if we can stand up paddle on snow too."

Snow fell in the Colorado high country as recently as May 24, closing Interstate 70 - the state's major east-west corridor, at Vail Pass for a short time. The one member of the C4 team adept at both snow, river and ocean sports is Aspen-based snowsports, kayak and SUP instructor/competitor Charlie MacArthur. MacArthur is C4's whitewater ambassador and the hands-on favorite to win the sprint and surfcross events.

On a more serious note, the company will also present the inaugural C4 Waterman of the Event award to the mountain athlete who best exemplifies the waterman ethos. The prize is a hand-painted paddle by acclaimed Hawaiian artist/waterman Hilton Alves.

Alves' art depicts the father of surfing, Duke Kahanamoku. An Olympic gold medalist in swimming and ambassador for Hawaii and surfing, Duke was a pure-blooded Hawaiian with little time for anything that detracted from a positive experience in the water. He is still revered as a model of the aloha spirit and a reminder to all that it isn't about what you do, or how you finish, but the spirit with which you go forward. This is the ethos that C4 stands by.

For complete event details visit the Teva Mountain Games website.

C4 Waterman, a Hawaii company, is a pioneer and leader in the evolution of the waterman lifestyle. With more than 100 years of research and development, C4 delivers unmatched design and technology in stand-up paddling.

From their Hawaiian homeland, to the ultimate waves of Tahiti; from the whitewater of the Colorado River, to calm freshwater lakes and streams. C4 Waterman's values are based on the four core principles of the waterman lifestyle: balance, endurance, strength and tradition.

To see the complete line of C4 products including epoxy and inflatable boards, paddles, rash guards and accessories, visit www.c4waterman.com.


Comment on "C4 Waterman takes stand-up paddling from surf to snow at Teva Mountain Games in Vail" using the form below