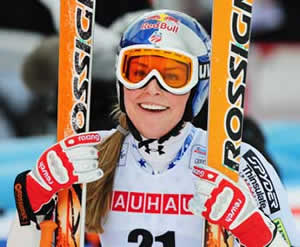 In her early years of training in the Vail Valley, two-time Olympian Lindsey Vonn was funded in part by the Vail Valley Foundation's Athlete Commission, which is accepting winter applications through Oct. 16.
Courtesy of the U.S. Ski Team
Vail Valley Foundation looks to fund local competitors through Athlete Commission grants
By realvail.com
September 24, 2009 — With snow already on the ground and summer merging into fall, local athletes are reminded that winter applications for funding from the Vail Valley Athlete Commission are due by Oct. 16.

Conceived by Pepi Gramshammer and supported by the Vail Valley Foundation, Vail Resorts, the Town of Vail and the Beaver Creek Resort Company, the Vail Valley Athlete Commission is dedicated to providing financial support for local individuals competing in an international arena.

To be considered for funding, a competitor must participate in international competition, outside of North America; be a resident of the Vail Valley for a minimum of three years; apply as an individual, rather than a team and be 15-years-of-age or older.

"Lindsey Vonn is a terrific example of how the Athletes Commission works," said Jennifer Mason, director of operations for the Vail Valley Foundation. "During her early years on the U.S. Ski Team, Lindsey received funding from the commission to help offset her training expenses. Now, she's preparing for her performance on the biggest international stage, the Olympics in Vancouver.

"But sometimes we forget what it takes to get to that point. Over the course of the past 12 years, the Athlete Commission has truly made a difference for some of our Vail Valley athletes and provided them with the opportunity to continue to pursue their goals."

Established in 1997, the Vail Valley Athlete Commission has provided funding for numerous local athletes, including Vonn, Chad Fleischer and Sarah Schleper, as well as Stacia Hookum, Toby Dawson, Chris Doyle, Jay Henry, Gretchen Reeves, Josiah Middaugh and Mike Kloser.

While winter and summer opportunities to apply for Athlete Commission funding exist, applicants who meet the necessary criteria will only receive funding once per calendar year. The 2009 Winter Athlete Commission funds are slated to be distributed in mid-November.

Winter Athlete Commission applications may be picked up at the Vail Valley Foundation offices in Avon and should be submitted to the Foundation at P.O. Box 309, Vail, Co. 81658, to the attention of Jennifer Mason. Applications may also be faxed to (970) 949-9265. For additional information, contact the Foundation at (970) 949-1999.


Comment on "Vail Valley Foundation looks to fund local competitors through Athlete Commission grants" using the form below