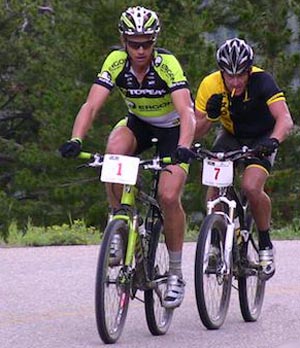 Seven-time Tour de France champion Lance Armstrong rides behind Gunnison's Dave Wiens during the Leadville 100 mountain bike race last year. Armstrong placed second behind Wiens, but hopes to improve on that result Saturday.
superhumanmag.com
superhumanmag.com
Armstrong, Ritter revving up talks to revive Coors Classic-style stage race
Popular 80s cycling road race included memorable stages in Vail area
By David O. Williams
August 11, 2009 — Part-time Aspen resident Lance Armstrong, shortly after soundly beating top pro rider Jay Henry of Avon in Saturday's Blast the Mass mountain bike race in Snowmass, had lunch with Colorado Gov. Bill Ritter to talk about reviving a Coors Classic-style staged road race.

That race, which began as the Celestial Seasonings Red Zinger in 1975 and ran as the wildly popular Coors Classic from 1979 to '88, included stages in Vail such as the Vail Pass Hill Climb and the Vail Village Criterium.

"Lance and the governor have had several conversations about their shared desire to bring a staged competitive race back to Colorado," Ritter spokesman Evan Dreyer said Monday. "They met on Saturday, they had lunch together and talked for a couple of hours."

Ritter and Armstrong have reportedly been discussing the concept of reviving the enormously popular race — which was the unofficial national tour between 1979 and 1988 — since May.

"Basically, it would be a comeback of the Coors Classic," Armstrong told Rupert Guinness of the Sydney Morning Herald during the 2009 Tour de France in July. "I am not sure Coors would be the title sponsor, but I had several conversations with [Ritter], and continue to do so, about bringing it back and putting it in August and giving the peloton a good race to do in August [of 2010]."

But on Monday, Dreyer said that timetable has now been pushed back.

"They had initially talked about doing it as early as 2010, but it looks like now the earliest would be 2011," Dreyer said. "There are a couple of hurdles, obviously — funding and logistics.

"It's a huge undertaking because of the number of jurisdictions that a race of this sort would traverse and go through and so you need state patrol, you need local jurisdictions, and there's a lot of logistical details that would need to be worked out."

Dreyer said Ritter, who rode in this summer's Triple Bypass, rides his road bike three or four days a week and has a real "passion for riding." Armstrong, meanwhile, is slated to ride in Saturday's Leadville 100 — a punishing high-altitude mountain bike race near his new home in Aspen that he finished second in last year behind top rider Dave Wiens of Gunnison.

"There's no bigger name in cycling right now and there hasn't been for the past 10 or 15 years," Dreyer said, "and to have a cyclist of Lance Armstrong's caliber and the governor trying to figure out a way to make [a staged road race] happen lends instant credibility to the effort."

Meanwhile, Armstrong told the Aspen Times Saturday that he's not too interested in an official Lance Armstrong Day in his new mountain town, where he enjoys a certain anonymity as just another celebrity in Glitter Gulch. His lack of interest may have been heightened by local reaction to the idea.

Only in Aspen, where liberal political bickering has been elevated to an art form, could a proposed day to honor the cancer survivor and seven-time Tour de France champion devolve into name calling and too-cool-for-school disinterest.

In ski-town rival Vail, where B and C list stars like Richard Dean Anderson of "MacGyver" get the keys to the city, Armstrong likely would have been given the $9 million Aspen home he reportedly built last year as a mountain retreat for him and his girlfriend and new son.

But in Aspen, liberal lightning-rod Mayor Mick Ireland has been accused by letter writers to the local papers of having a man crush on Armstrong for even suggesting the idea, and the Aspen Times in an editorial indignantly proclaimed "Enough of the Idolatry."

For his part, Armstrong, fresh off his recent comeback and third-place finish in this year's Tour, told the Times he likes his relative anonymity in Aspen, preferring to be "… the dude who lives in the West End that nobody knows about."

Good luck with that, especially given his frequent talks with Ritter, a Democrat. Armstrong, who earlier this year in an interview with The Daily Beast opened the door to running for political office, is reportedly anti-war, pro-choice and pro gun control, but counts former President George W. Bush among his Texas pals.

Maybe his political chances would be better in the new blue state of Colorado.

Comment on "Armstrong, Ritter revving up talks to revive Coors Classic-style stage race" using the form below