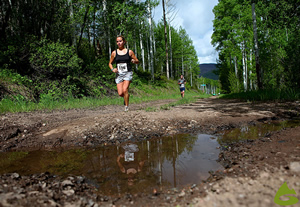 The Volvo 10k Spring Runoff presented by Eddie Bauer on Vail Mountain is part of the GNC Ultimate Mountain Challenge presented by GOALŲ.
By Shane Macomber Photography
GNC Ultimate Mountain Challenge returns to Vail to test top Teva Games athletes
By realvail.com
June 2, 2010 — The Vail Valley Foundation recently announced the return of one of the most challenging and intense multi-sport, human-powered competitions, the GNC Ultimate Mountain Challenge powered by GOALŲ, to the Teva Mountain Games in Vail June 3–6.

The GNC Ultimate Mountain Challenge powered by GOALŲ is a test of athletic skill, power and endurance where athletes will push through some of the most demanding races at the Teva Mountain Games.

Athletes' combined time in the Volvo 10K Spring Runoff presented by Eddie Bauer, Volvo X-Country Mountain Bike presented by Fetzer Vineyards, Fetzer Vineyards Road Bike Time Trial presented by Thule and Bud Light Lime Down River Sprint presented by Jackson Kayak will determine the ultimate professional man and woman and the ultimate amateur man, woman and team.

The competition will take place Saturday, June 5 and Sunday, June 6, with two events each day. Each man, woman or team must pre-register for the UMC, and registration fees are $150 for pro individuals, $125 for amateur individuals and $160 for an amateur team. (There is no division for professional teams.)

Amateur teams must be coed, have a minimum of two members and no more than four members, and they may enter only one team member per event. First, second and third places are awarded cash prizes for the professional male and female individuals who finish with the combined top time in all four competitions.

GNC ULTIMATE MOUNTAIN CHALLENGE powered by GOALŲ

BUD LIGHT LIME DOWN RIVER SPRINT presented by Jackson Kayak
Three miles east of Vail Village marks the put-in for the Down River Sprint. With a rally race format, boaters drop at timed intervals and race against the clock to the Covered Bridge take-out. The best part about the Down River Sprint: you can race on about anything that floats!
DATE: June 5, 2010
TIME: 8:30am
LOCATION: East Vail – Vail Village

VOLVO X-COUNTRY MOUNTAIN BIKE presented by Fetzer Vineyards
Mountain bikers will start at the base of Golden Peak and race up Vail Mountain on a course that tests bikers' pre-season endurance and tenacity. With the winter snowmelt adding to the ever-changing course, this event has one of the largest cash purses in the mountain biking world. A family-friendly kids' lap is held immediately before the race with prizes for all!
DATE: Saturday, June 5, 2010
TIME: 10am -- Kids' Race; 11:45am -- Expert & Pros; 3:45pm -- Beginner, Juniors, Sport & Vet
LOCATION: Golden Peak

VOLVO 10K SPRING RUNOFF presented by Eddie Bauer
Not quite ready for the Vail Pass Half marathon? Then this is the race for you. Challenge the Vail Valley's best trail runners along with top professionals at almost 9,000 feet as you compete for a cash purse. This course will truly test your fitness with its constant elevation changes and mountainous terrain. No matter how hard you train, this remains one of the most challenging 10Ks in the nation!
DATE: Sunday, June 6, 2010
TIME: 8am
LOCATION: Gore Creek Drive

FETZER VINEYARDS ROAD BIKE TIME TRIAL presented by Thule
Competitors of all ages and abilities will be able to race on the original time trial course ridden by legendary riders such as Greg Lemond and Bernard Hinault back in the late 1980's. Andy Hampsten's long-standing course record of 26:33.43 set during the 1987 Coors Classic was broken at the 2008 Teva Mountain Games by Benjamin Day and Chris Baldwin. Do you have what it takes to push your limits at 10,000 feet? This is your chance to take on some of the best cyclists in road-biking history on one of the highest Time Trial courses in the world.
DATE: Sunday, June 6, 2010
TIME: 9:30am
LOCATION: Covered Bridge, Vail Village

The sporting events at this year's Teva Mountain Games, the nation's largest outdoor adventure event, will include World Cup and amateur climbing, kayaking, rafting, mountain biking, road cycling, trail running, a half marathon, fly fishing and this year's newest addition, stand up paddling.

In addition to competitive adventure sports, the Teva Mountain Games also include a photography competition, interactive exhibition and demo areas, DockDog canine competitions, the Outside Adventure Film School, an interactive family area, free concerts and mountain lifestyle parties.

For more information about the Teva Mountain Games, go to www.tevamountaingames.com or call 888-883-VAIL(8245).


Comment on "GNC Ultimate Mountain Challenge returns to Vail to test top Teva Games athletes" using the form below