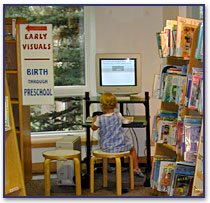 The Vail Library has plenty to keep a young mind active.
By Tania Boyd
vaillibrary.com
Blog Tools
Comments
PermaLink
At any age, library makes a tranquil visit
By Tom Boyd
January 8, 2008 — Riding up the chair the other day I overheard two mommies talking about what to do with their toddlers while in Vail. I couldn't help but pipe up.


The Town of Vail Library, I happily instructed, has wonderful children's programs. Toddler story hours are from 10 to 11 every Tuesday and Wednesday morning. Preschool story hours are from 11 to noon every Tuesday and Wednesday.


Learn more by clicking HERE.

The Library in general is a nice place to visit, and has an excellent children's section. I picked up first-hand knowledge of this as a child, as my mother was a librarian.


She's retired now, and the children's section has vastly improved since I was a young one, but I still enjoying popping in from time to time and relaxing in one of the big, cozy chairs they have there, reading to my heart's content in front of the fireplace.


The staff is friendly and the collection is broad in spectrum. DVDs are available, too.


I suppose I'm a bit biased on this one, but the Vail Library is, was, and always will be one of my favorite little spots on earth, no matter your age. I highly recommend a visit if you have yet to stop in.


Comment on "At any age, library makes a tranquil visit" using the form below