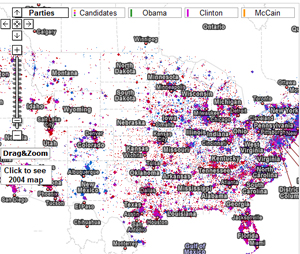 Blog Tools
Comments
PermaLink
How much money is Vail giving to Obama, Hillary, and McCain?
Long thought of as a 'red' town, Vail's money is quite blue
By Tom Boyd
May 7, 2008 — Is Vail blue or red? Democrat or Republican?

As usual, the true answer lies somewhere in-between, but Vail's money is more Democrat than Republican.

Forty people from Vail have given $50,888 to the Democratic party, whereas 26 people have given $32,603 to the Republican party, according to the Huffington Post's "Fundrace."


The site collects and tracks large donations (above about $300) and lists them for all to see, including an interactive map.


In comparison to Aspen and Boulder, Vail is sometimes pegged as conservative. Past visits from Dick Cheney, Dan Quayle, and of course Gerald Ford, have amplified Vail's "red" reputation.

The beauty of American politics, however, is that donations are public information, available for all to see. If the Huffington's "Fundrace" information is correct, then the town of Vail over the past two years has been far more "blue" than "red."

Find out which of your neighbors have donated, and to whom, by clicking on this link: fundrace.huffingtonpost.com/neighbors.php


2 Comments on "How much money is Vail giving to Obama, Hillary, and McCain?"