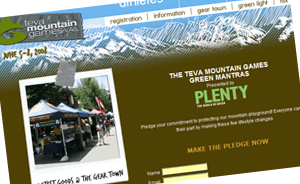 The Teva Mountain Games website gives readers the opportunity to pledge to do five non-wastefull, environmentally-friendly things during, after, and before the Games.
tevamountaingames.com
Blog Tools
Comments
PermaLink
Teva Mountain Games "Green Pledge" is a welcome gesture
By Tom Boyd
May 15, 2008 — Very few know the water quality better than the kayakers who paddle through the rivers, or the health of a forest better than those who run through it early each morning, or the quantities of trash by the roadside better than the bikers who pedal past it each day.

The upcoming Teva Mountain Games (June 5-8) attracts thousands of people to Vail each year, and each year I've watched as thousands of people not only avoid leaving behind a big mess, but who actually leave the valley's rivers and trails CLEANER than they were when they arrived.

The Games' "Green Mantra" pledge asks that people take five simple steps to help make the planet – and the Games – cleaner and more efficient. This online pledge may not seem like a big deal (check it out at www.tevamountaingames.com), but to me it most definitely is.

The Games will also feature a "Green Light District," which will be presented by Cocona, a natural technology company, June 6 – 8.

I was part of an athlete/media symposium at the Teva Games a few years ago, and I listened to the world's top kayakers, climbers, runners and bikers talk about what their sport means to them and what their sports mean to the world.

The thing that binds these sports together is that they are outdoor sports, mountain sports, sports which usually take place in a natural setting.

It's only natural, then, that the Games include some element which reminds spectators, athletes, and the general populace, that the people involved in the Games are very aware that the health of the natural beauty around them is important to the success of the sports themselves.


1 Comment on "Teva Mountain Games "Green Pledge" is a welcome gesture"