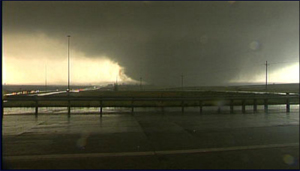 This photo from channel 9, KUSA, shows the size of a tornado which tore through northern Colorado earlier today. Click on the link below to view more photos.
9news.com
Blog Tools
Comments
PermaLink
Tornadoes rip through Windsor, Greeley
By Tom Boyd
May 22, 2008 — Channel 9 news and CNN are reporting that at least six huge tornadoes have ripped through the towns of Windsor and Greeley. Huge hail also fell throughout the Front Range and eastern Colorado.

Damage from the tornado has yet to be assessed, but reports of blown-over semis and damaged cars and buildings are surfacing on Channel 9.

The Greeley Tribune is also reporting one death near the missile silo park near Colo. 257 in west Greeley.

Comment on "Tornadoes rip through Windsor, Greeley" using the form below