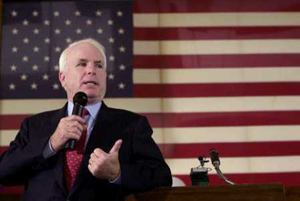 McCain is expected to make Denver the center of the news cycle next week when he makes a, "Major foreign policy speech" at DU next Tuesday.
Photo courtesy www.johnmccain.com
johnmccain.com
Blog Tools
Comments
PermaLink
McCain, Obama, to visit Denver next week
By Tom Boyd
May 23, 2008 — Colorado will be getting a lot of attention during this political season, and both candidates are expected to visit Denver next week.

John McCain's campaign is scheduled to make a "major foreign policy speech," next Tuesday in Denver, according to his website, www.johnmccain.com.

Democratic front-runner Barack Obama is expected to come to Colorado next Wednesday, according to www.barackobama.com.

Details of Obama's visit aren't out yet, but McCain will speak Tuesday morning at the Cable Center at the University of Denver. Doors open to the public at 8 a.m.

McCain's speech comes only days ahead of the Colorado Republican Convention, scheduled to take place in Broomfield May 31. The Libertarian Party is currently holding their National Convention at the Sheraton in Denver.

Colorado's Democrats attended caucuses in record numbers this year, with 66 percent of the vote going to Obama. The turnout has given Democrats hope that they can win Colorado's 9 delegates in the general election this fall.

Obama has a chance to win Colorado's 9 and New Mexico's 5 electoral votes to make up for potential losses in Florida and Ohio. If Obama can also claim two Southern states, such as North Carolina and Georgia, he could win the presidency without winning the swing states of Ohio and Florida.

Colorado is thrust even more into the spotlight by the Democratic National Convention in August. Beyond that, Colorado's U.S. House District 2 race, which includes Eagle County, is one of the most expensive thus far in the nation.

The Senate race between Mark Udall (D- Colorado), the current District 2 Rep., and Bob Schaeffer (R), is also expected to be a close race worthy of national attention.

George Bush won Colorado by a narrow margin in 2004, with 1,101,255 votes (51 percent) to 1,001,732 for Kerry (47 percent), according to the CNN election center.

In Eagle County, where Obama won 72 percent of the caucus vote earlier this year, Kerry won 52 percent to 46 percent in 2004 (CNN election center).



Comment on "McCain, Obama, to visit Denver next week" using the form below