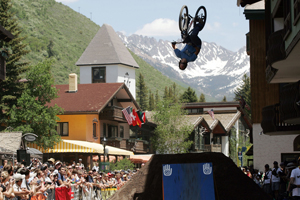 The weather will (eventually) shine for the Teva Mountain Games June 5-8, 2008.
Photo by Toni Axelrod/Teva Mountain Games
tevamountaingames.com
Blog Tools
Comments
PermaLink
Weather will turn to shine for Teva Games June 5-8
By Tom Boyd
June 4, 2008 — The Teva Mountain Games are under way and the weekend's weather looks like it will co-operate for the most part.

Kayakers in Thursday's Steep Creekin' Championships on Homestake Creek will likely see some wet weather, but the sun is likely to come out for the rockin' Opening Ceremonies at 6 p.m. at Check Point Charlie in the Vail Village.

The Opening Ceremonies has been tagged by organizers as one of the coolest events of the weekend, a moment not to be missed by athletes and spectators alike.

Weather is expected to be sunny through Saturday, making for ideal conditions at all of the many events ongoing at the Teva Mountain Games this weekend in the Vail Village, Homestake Creek (near Redcliff), and Dowd Chute (just west of Vail on Highway 6).

The Ozomatli concert at 6 p.m. Friday is also expected to be ideal – expect a warm sun setting over Check Point Charlie as Pabst Blue Ribbon and SoBe flows as freely as the waters of nearby Gore Creek as the Grammy winning band sets the streets on (metaphorical) fire.

Enjoy and see you out there.

See all of RealVail's Teva Mountain Games stories and photos at the links below:

Photo gallery by Dan Davis of trekkerphoto.com  
Teva Mountain Games 2008 photo slide show
A toast to the Teva Mountain Games pros and amatuers alike
Tired happy the Teva Mountain Games are coming to a close
How a defunct Vail dam brought luck to the Teva Games
Got stripper skills Teva Mountain Games nightlife poised to deliver for a cause
Vails Teva Games bring out the best in outdoor community
Whitewater could be big for upcoming Teva Mountain Games June 5 8
Teva Mountain Games Green Pledge is a welcome gesture
Teva Mountain Games comes to Vail June 5-8
Slopestyle charity crawl featured tonight as part of the Teva Mountain Games
Town to improve whitewater park

Comment on "Weather will turn to shine for Teva Games June 5-8" using the form below