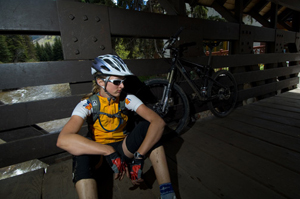 The Teva Mountain Games have been exciting and exhausting … look for more photos of the Games from realvail.com early this week.
Photo by Dan Davis
trekkerphoto.com
Blog Tools
Comments
PermaLink
Tired, happy, the Teva Mountain Games are coming to a close
By Tom Boyd
June 8, 2008 — It's been a whirlwind four days at the Teva Mountain Games – from the Dog Dock championship to the Ultra Mountain Challenge, athletes of all shapes, sizes, and even species have been at it non-stop since the morning of the fifth.

Before wrap-up coverage tomorrow, here are a few notable notes from the weekend.

A huge congratulations to all the participants, but of special note are the team of amputees who competed in the Ultra Mountain Challenge, a withering four events in two days which takes big-time guts to compete in, even without that added challenge.

Same goes for the "Senior Snow Pigs," a gang of veteran ski patrollers who worked on Vail Mountain together in the 1960s, and who competed for the second year in a row in the UMC.

I never knew a dog could jump 25 feet until this weekend, but then again, there were many things I didn't know were possible until this weekend. (Results from the dog events and the UMC are forthcoming).

The bouldering competitions were some of the most entertaining sporting events I've seen in a while. Congratulations to all of the climbers, and to the TMGs for hosting a World Cup climbing event on U.S. soil for the first time in 20 years.

Again, huge props to the folks at Untraditional Marketing, whose calm demeanor permeated the TMGs and help make the events better and better each and every year.

And thanks to everyone who competed on the realvail.com ultimate mountain challenge team … we may not have been the best, but we were definitely the best looking!

Stay tuned for more photos and coverage as the TMGs come to a close.

view the most recent photo gallery from the Teva Mountain Games HERE.
---
Photo gallery by Dan Davis of
trekkerphoto.com
---
See all of RealVail's Teva Mountain Games stories and photos at the links below:

Comment on "Tired, happy, the Teva Mountain Games are coming to a close" using the form below