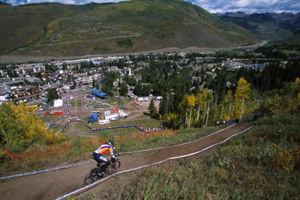 This photo, taken during the 2001 UCI World Mountain Bike Championships in Vail, show the kind of terrain downhill mountain bikers are challenged with during competition.
Jack Affleck, Vail Resorts
vail.snow.com
Blog Tools
Comments
PermaLink
Rider with local ties heads to Scotland for World Cup
By Tom Boyd
September 7, 2007 — It takes a courageous kind of guy to step onto the pedals of a downhill mountain bike, point it down a twisty, turning, rocky single-track course, let go of the brakes and ride as fast as possible toward a distant finish line.

Cole Bangert is just such a guy. The 21-year old resident of Twin Lakes, near Leadville, recently qualified as the top downhill mountain bike rider in the nation, earning him a berth at the UCI Mountain Bike World Championships this week in Fort William, Scotland.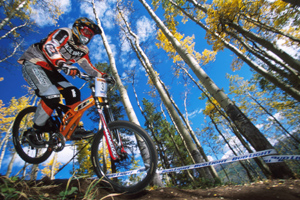 A rider navigates the Vail World Cup mountain biking course during competition in September of 2001

Downhill Mountain Biking is a nascent and struggling sport here in the United States, yet Bangert seems to have picked up a pioneering spirit from his father: former Vail resident Daryll Bangert, who started Timberline Tours raft guides with one raft and an old Chevy Impala back in 1979, and later created the successful Lakota Guides raft company (which he sold three years ago).

Although Bangert is the nation's best rider, he'll still have to foot a $3,500 bill for his travel expenses to Fort William. For more on Bangert see Scott Willoughby's Denver Post article by clicking here.

Comment on "Rider with local ties heads to Scotland for World Cup" using the form below