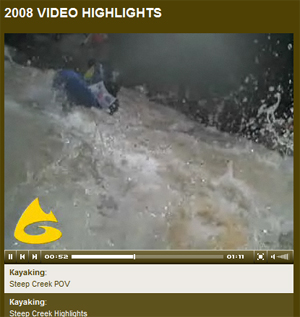 This snapshot of this video does no justice to the carnage which is about engulf these two boaters.
Courtesy Teva Mountain Games
tevamountaingames.com
Blog Tools
Comments
PermaLink
Teva Mountain Games announces TV schedule (and also posts rockin' online video)
By Tom Boyd
June 17, 2008 —
Cruisin' around the Teva Mountain Games' website recently I came upon some mind-scarring video of guys running Homestake Creek during the recent steep creekin' competition.  
If you've ever been caught like a deer in headlights, staring at the TV screen during one of those low-brow, knuckle-draggin', ass-kickin FOX "reality" shows which depict human beings narrowly avoiding death and destruction on motorcycles, skateboards, snowboards, rollerblades, or various other items of "extreme" sporting apparel, then this video is definitely for you.
And even if you've never kayaked before, or even heard of a kayak, you've got to check it out. It's available at www.tevamountaingames.com/flix.cfm?ID=RodeoWeb-V2 … click on Steep Creek POV, and then check out Steep Creek Highlights. Blew my mind. Great vid TMG.
Teva Mountain Games coming to a TV near you
And yes, although RealVail's Teva Mountain Games online coverage has been absolutely stellar (thank you, thank you, bow, wave to the crowd), there's also some old timey television coverage coming to an electrified box near you.
Find out whether your TMG coverage is on NBC, CBS, FOX, ABC, Telemundo or the Ski Channel (or all of the above) by checking out www.tevamountaingames.com/news.cfm?id=98.

Comment on "Teva Mountain Games announces TV schedule (and also posts rockin' online video)" using the form below