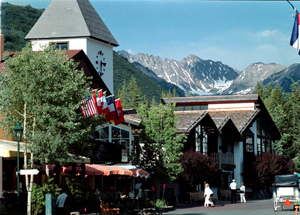 Do you know Bridge Street like the back of your hand? Does it matter? NO! But have some fun with my quiz anyway...
Photo by Dan Davis
trekkerphoto.com
Blog Tools
Comments
PermaLink
Take the "Do you know the Vail Valley?" quiz
By Tom Boyd
June 19, 2008 — Are you a "True Local?" Do you know the ins-and-outs of this Valley, our ski areas, our culture and our people?

Does it really matter?

Of course it doesn't! But it's still fun to play the game anyway.

Take the quiz and find out your score!

1) Is there a stop sign at the top of Blue Cow Chute?
A) Yes
B) No

2) How much does it cost to park a car in the Village Structure for 6 hours during the summer?
A) $12
B) $16
C) $22
D) Free

3) Which radio station is known as "True Local Radio, KZYR"
A) 105.5
B) 97.7
C) 92.3
D) 104.7

4) Vail's famous Riva Ridge run is named after:
A) A WWII battleground
B) Vail founder Rick "Riva" McIntyre
C) A Russian mountain range
D) The Italian word for "Ridge"

5) What's Vail's altitude?
A) 2,550 feet
B) 18,150 feet
C) 12,360 feet
D) 8,150 feet

6) How many gondolas are there on Vail Mountain?
A) 1
B) 2
C) 3
D) 4

7) Beaver Creek officially opened in which year?
A) 1970
B) 1972
C) 1976
D) 1980

8) Which former president had strong ties to Vail?
A) Nixon
B) Lincoln
C) Ford
D) Kennedy

9) Who of the following was a Vail founder?
A) Pete Seibert
B) Rick "Riva" McIntyre
C) Chris Anthony
D) Bob Robertson

10) What town is the Eagle County seat?
A) Avon
B) Minturn
C) Vail
D) Eagle

11) The readers of which magazine have consistently ranked Vail No. 1?
A) Ski
B) Skiing
C) Powder
D) Freeskier

12) The big annual tournament held each Fourth of July is for which sport?
A) Soccer
B) Hockey
C) Lacrosse
D) Ultimate Frisbee

13) Which of these famous ski racers trained at Ski Club Vail?
A) Bode Miller
B) Daron Rahlves
C) Picabo Street
D) Lindsey Kildow Vonn

14) Which Bridge Street bar's music is, "All Acoustic, All the Time."
A) The Red Lion
B) The Club
C) The Ski Bar
D) Samana

15) Which of the following is not a locally-owned restaurant?
A) Ti Amo
B) Pazzo's
C) Outback Steakhouse
D) Moe's Barbecue

16) Vail Resorts is:
A) A Publicly held company
B) A Privately owned company

Enter your answers into the comment function below to find out your score!

2 Comments on "Take the "Do you know the Vail Valley?" quiz"