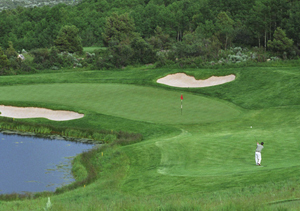 This is, in fact, me golfing – but don't take any swing lessons from me. For that you can turn to RealVail's golf guru, Reid Griebling, who launched his new golf column on our site today.
Photo by Dan Davis
trekkerphoto.com
Blog Tools
Comments
PermaLink
Tee time for real Vail golf (plus a preview of concerts and events)
And also a bit of realvail.com news
By Tom Boyd
June 24, 2008 — There are very few joys in the golf world to match playing at one of the Vail Valley's stellar courses.

Reid Griebling knows this quite well, and this week RealVail's resident scratch golfer launches his new golf column. I'm looking forward to keeping up with the golf world through his "Fairways and Greens" musings, reviews, notes and advice.

We've also got a complete, unbiased review of courses in the Valley, along with contact information and links to websites, available by clicking here.

I've got a long way to go to match Reid, but I did once attend the David Leadbetter Golf School at Red Sky Ranch in Wolcott (15 mins from downtown Vail), and for about 3 days I was playing out of my head. Then, of course, I went a year without touching a club and forgot everything they taught me.

This week we also welcome an old friend from earlier days at the Vail Trail, Ms. Terri Schlichenmeyer, whose timely book reviews keep us all on the cutting edge of what's going on in the publishing world. All of us should be as fortunate as her, to read so many interesting, insightful books.

Aw shucks, I feel like we're getting the ol' gang back together!

Ahem… well, speaking of getting back together, there are a few events back in the swing of things now that summer season is under way.

The weekly free Tuesday concert at Ford Park, commonly known as the Bud Light Hot Summer Nights Concert Series, welcomes Drew Emmit Tuesday at 6:30 p.m. (doors open at 5:30, so bring a blanket and some coin for the cash bar). Check out the summer schedule by clicking here.

Not to be outdone, the Town of Eagle has its own hit parade ongoing this summer with the American National Bank ShowDown Town free concert series in Eagle Town Park. Old favorites Airborn play this Thursday at 6:30 p.m., and bring the kids because the Vail Valley Foundation has gone to extra efforts to make sure this is a very family-friendly event.

If that's not enough action for ya, then be sure to check out the Beaver Creek Rodeo in Avon on Thursday nights through August 21 in Avon. It's also very family friendly and a must-see if you're only in town a few days.

Comment on "Tee time for real Vail golf (plus a preview of concerts and events)" using the form below