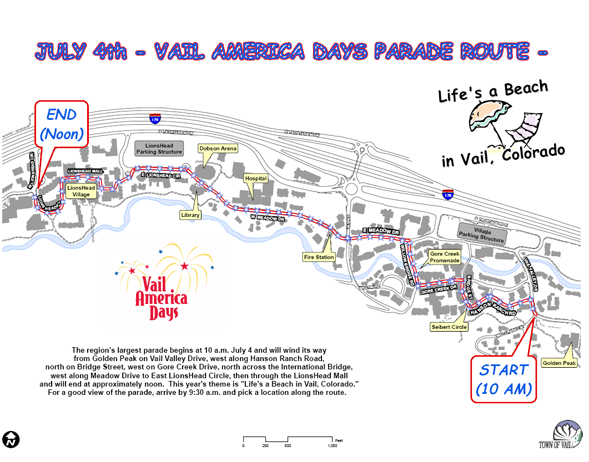 The Fourth of July parade route is packed with great viewing spots, depending on what you're looking for.
Image courtesy the Town of Vail
vailgov.com
Blog Tools
Comments
PermaLink
Vail Fourth of July Parade route announced
By Tom Boyd
June 30, 2008 — The key to a good Fourth of July is to find a good seat for the parade. Fortunately, there are thousands of great seats all along the July 4th Vail America Days route in Vail.

A map of the parade route, above, gives you a good sense of where the parade will go, but here's a little guide to go with the map so you know what you're in for when you get there.

If you're family is rockin' and ready to go, you'll want to get up early and find a parking space in the Village parking structure, then head over toward Gold Peak, where all the floats will be preparing to start at 10 a.m. You may also want to stake out prime grassy territory behind the Tivoli Lodge.

After the parade passes the Christiania it heads down Bridge Street through the heart of town. This is an action-packed place to be, but unless you've got balcony access it may be tough for the little ones to see what's going on.

Things should clear up a little more along East Meadow Drive, but the real open areas will be found west of the first station and along toward Dobson Arena. The library, with its grassy roof, makes an ideal location – but get there early.

Another prime spot is near the Lionshead structure. Parking should be easier to come by (but arrive at 9 to be sure) and bring a blanket for the swath of grass on the structure's south side, which is slope a bit and will offer prime seating.

Lionshead will be like the Village, with lots of people and a lot of action, but a bit more difficult to find a good view for short ones.

One way or another, it's a great idea to pack up when the parade has passed and head toward Lionshead's west end for the fiesta which awaits at the end of the parade route.


Comment on "Vail Fourth of July Parade route announced" using the form below