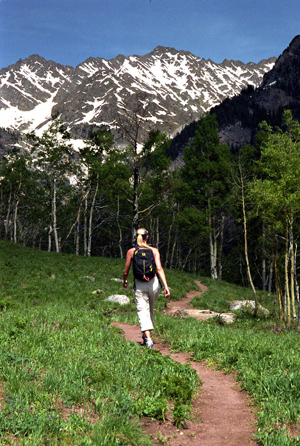 Be sure to check out more hikes at our complete Vail Valley hiking guide.
Dan Davis
trekkerphoto.com
Blog Tools
Comments
PermaLink
Vail hiking: A quick recommendation
By Tom Boyd
July 15, 2008 — To hike is one thing – to find a hike for all abilities, which will bring you home in time to make the evening's events, is another thing entirely.

With Bravo! Colorado bringing world-famous orchestras to town, and the Vail International Dance Festival coming up, plus the Hot Summer Nights concert series and everything else that's going on, people tend to want to head for a nearby hike which will get them back in time for the evening's events.

Ideally the hike is flexible enough for the whole family, too – so that kids and grandma can come along if they want, and everyone can hike for as short a time, or as long, as they wish.

My No. 1 recommendation for this is Bighorn Creek Trail in East Vail. It's very steep at first, but don't let that get you down. Conquer that first hill and it's much easier from there on out. It's also less crowded, usually, than nearby Booth Creek Falls trail.

Take a look at the description below, and if you're looking for more recommendations for yourself, or your friends and family, then visit our complete guide to Vail hiking.
More hiking recommendations
BIGHORN CREEK TRAIL

ACCESS FROM VAIL: Travel east from Vail on I-70 to Exit 180 for East Vail. Exit here and turn to the right. Proceed on the south frontage road for 1 mile to Columbine Drive, turn left. Continue to the end of the pavement; the road passes under the interstate through a narrow passage. There is limited parking at the end of the road.

TRAIL BEGINNING: 8,600 ft at the end of Columbine Road.
TRAIL ENDING: 10,800 ft at the old homestead cabin.
LENGTH: 3.6 miles one way. (5.8 km)
HIGHEST ELEVATION: 10,800 ft (3300 m) at the end of the trail.
DIFFICULTY: More difficult.
Elevation gain: 2,200 ft in 3.6 miles.
RECOMMENDED SEASON: June through September.
AMOUNT OF USE: High
USGS MAP(S): Vail East

The hike: The Bighorn Creek trail is less steep than the other East Vail trails. It is generally a fairly easy walk.

The first 1/2 mile of the trail climbs steeply out of the Vail Valley, then more gradually climbs up through stands of aspen and pine. The trail passes beaver ponds and remains of old mining camps as well as Bighorn Falls. Near mile 2, the views of Vail and Bighorn drainage are exceptional. Around mile 3, the trail passes through open meadows and stands of subalpine fir and Englemann spruce, offering a chance to see the Grand Traverse, a continuous 12,000 foot ridge connecting all the peaks and high drainages of the Gore Range. The trail ends at an old homestead cabin located on private property.

Just before mile 2 and past a large fern grove, there is a side trail to an overlook down the steep drop to Bighorn Creek. This point makes a good destination for short hikes. The cabin is unlocked to offer shelter for hikers. Please respect this private property and help protect it for others to use and enjoy.

2 Comments on "Vail hiking: A quick recommendation"