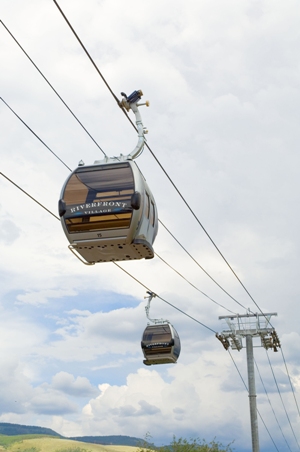 Nice gondola, but who's going to work at either end when skiers and riders come pouring back to town?
Photo by Dan Davis
trekkerphoto.com
Blog Tools
Comments
PermaLink
Labor shortage needs cure that makes cents
By Tom Boyd
July 17, 2008 — Someone recently commented on this website that there isn't any proof of labor shortage in town. The real problem, the anonymous RealVail reader states, is that, "The employers just want more cheaper, and more more easily brow-beaten labor," [sic].

On the other hand, ski resort representatives are scrambling, even desperate, to get legislation passed this year that would allow more H2B overseas worker visas to be issued, as David O. Williams reported this week in his article, "Salazar says ski resort work visas stalled by immigration debate deadlock."

"We have to remain optimistic, because this is it. We need this," Geraldine Link, director of public policy for the Lakewood-based National Ski Areas Association, said in the article. "We're going to keep working tirelessly to get it passed and make our voice be heard in Congress..."

OK, so on the one hand we've got people saying there's not a labor shortage, and on the other we've got people scrambling to bring in more overseas workers.

Add to the debate that a recent puff of controversy floated through Vail two weeks ago when shopowners complained about the overflow of construction workers in town which, some merchants said, was creating a parking shortage at the Vail Village Parking Structure.

Too many pickup trucks, not enough VW Touaregs.

But if there's too many workers in town, then why did Vail Resorts officials cite labor shortages as a main reason the mountain closed in mid-April this year despite mid-winter conditions atop the mountain.

So what's going on here? Do we have too many workers or not enough?

The answer is clear to anybody who can speak without the restraints of PC labor laws: we have plenty of workers, but not enough of the right type.

It's the kind of grumbling that's been around since the world's first Boss told the world's first Employee what to do. Ever since, Bosses have complained that good labor is hard to find, and Employees have complained that good jobs are hard to find. (People in middle management, we can assume, complain about both.)

As a philosophy major at CU, I used to always hear the lame joke: "At least you'll have something to philosophize about while you're waiting in the unemployment line."

Now I realize: philosophy grads are exactly what Vail Resorts is looking for to work their front-line, guest service positions – those critical guest-interrelations jobs which ebb and flow with the tide of tourists. So where are the philosophy grads? Even better, where are the Philosophy drop-outs? Are they turning down these jobs, and if so, why?

Labor, like water, flows uphill toward money out West. What Vail Resorts was really saying when they closed the mountain is that the cost of scrambling around the Valley searching for people to run the lifts for a few more days simply wasn't worth it. It didn't make dollars and it didn't make sense.

Here's something else that didn't make sense: Vail Resorts also introduced the Epic Pass soon after the season came to a close. I may be proven wrong, but it's hard for me to believe that VR is concerned about a labor shortage if they essentially eliminate the No. 1 benefit which makes locals volunteer and/or work seasonally for Vail Resorts: the free ski pass.

Is Vail Resorts planning on taking the extra bucks earned via the Epic Pass (if, indeed, there proves to be any) and spending it on better wages and benefits for its seasonal workers?

Hmmmm. Something makes me doubt it.

Unless an H2B exemption is worked out before the August congressional break (which isn't looking likely), or the University of Colorado graduates an inordinate number of philosophy students this year (which is more of an epistemological question than a practical one), Vail Resorts may be staring at the one option which is sure to make the NYSE stockholders cringe: paying American workers a higher wage to do jobs that foreigners have done for years.

That, right there, is something to philosophize about.

Comment on "Labor shortage needs cure that makes cents" using the form below