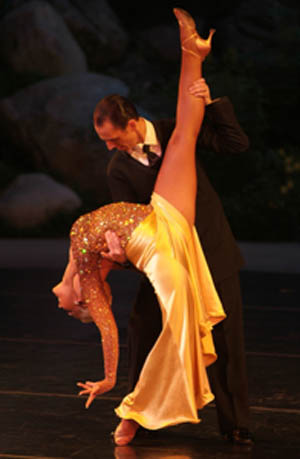 Dancers of interntional fame come to Vail for the Vail International Dance Festival July 27-Aug. 9.
vaildance.org
Blog Tools
Comments
PermaLink
Tickets already selling out for Vail International Dance Festival
Ballroom dance sells out reserved seating
By Tom Boyd
July 23, 2008 — The national popularity of ballroom dancing is in the category of national phenomena which leave me briefly agape, then quickly searching for the nearest bandwagon which will have me as an avid rider.

The Vail International Dance Festival's "Ballroom's Best" performance, slated for Saturday, Aug. 9, 7:30 p.m. at Ford Amphitheater, is the latest evidence of the national dance craze which swept the nation a few years back and which, it seems, is here to stay for quite some time.

Reserved seating for the performance has already sold out, yet general admission tickets still remain for this, the final event of the Vail International Dance Festival. Be prepared to see lithe, strong dancers from among the World Champions in competitive ballroom dancing.

The Festival, which has gained international acclaim as one of the finest dance events in the world (the mere fact that New York City Ballet's Damian Woetzel is the event's Artistic Director speaks volumes of its renown), begins on July 27 and carries through the Ballroom Dancing event Aug. 9.

For a complete Vail International Dance Festival calendar of events click here.

For those dance fans looking to catch the ballroom performance, along with other Dance Festival shows, the Performance Plus Pass is probably the way to go. It provides general admission lawn seating, plus a $10 discount on a bottle of wine each evening, for all seven Dance Festival performances at the Gerald R. Ford Amphitheater.

Priced at $75, the non-transferable Performance Plus Pass also offers holders the possibility of an upgrade to a reserved seat one hour prior to the start of the show.

Performance Plus Passes and general admission lawn seats for "Ballroom's Best" may be purchased online at www.vaildance.org or by calling either (970) 845-TIXS (8497) or 1-888-920-ARTS (2787). Individual tickets for the 2008 Vail International Dance Festival are currently on sale as well via the same outlets.


Comment on "Tickets already selling out for Vail International Dance Festival" using the form below