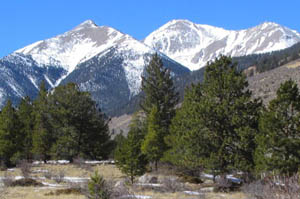 The 14,196-foot high peak of Mt. Yale is this weekend's destination. I will return with a fresh picture before nightfall, should all go well.
Courtesey mt-yale.com
mt-yale.com
Blog Tools
Comments
PermaLink
Colorado 14ers: giving Mt Yale the old college try
By Tom Boyd
July 26, 2008 — For the first time this summer I'll be heading up a 14er.

Now that I think about it, it's the first 14er I've attempted to summit in about five years. Generally speaking, when I head into the high country it's with a fishing rod in tow, and high country lakes are more likely to be my destination. I've also headed up a few 13ers, mainly because they are just as beautiful but attract very few people to their summits.

This weekend, however, I'm going to take my outdoor lifestyle to new heights.

Yale is 14,196 feet high according to my "Colorado's Fourteeners" guidebook by Gerry Roach. My wife and I will be taking the Denny Creek trailhead route, expected to be about 7 miles.

I'll be back this evening with a report on the day – and you can find me at the Main Street Grill this evening at 10 p.m. strumming guitar, swapping stories, and most likely amplifying the days heroics to Tall Tale status.

If you're looking for a great resource on the web, check out www.14ers.com. A fantastic web site for anyone out to summit a new peak.

Cheers.


Comment on "Colorado 14ers: giving Mt Yale the old college try" using the form below