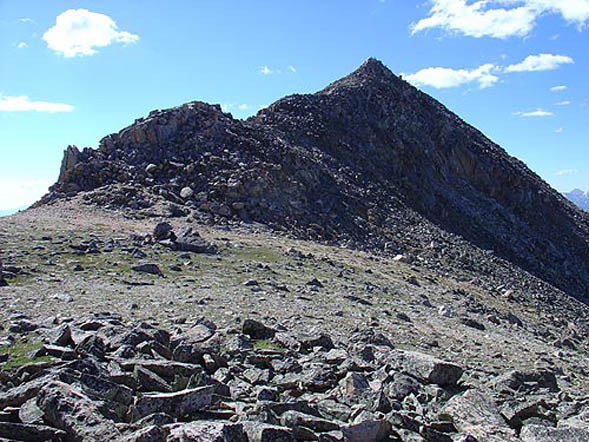 The view I did not have: Mt. Yale's peak taken during the climb from the ridgeline. The wisdom of the decision didn't eradicate the sense of defeat. Instead I had to borrow this image from 14ers.com, an excellent website for gathering information about Colorado's highest peaks.
14ers.com
14ers.com
Blog Tools
Comments
PermaLink
To summit or not to summit? Lightning halts ascent of Mt. Yale 14er
By Tom Boyd
July 28, 2008 — By the time we reached treeline the base of nearby clouds were already darkening, their tops piling up in bright, white, dangerous-looking thunderheads. As we approached 13,000 feet – within sight of the 14,196-foot-high summit of Mt. Yale – there was a palpable sense of electricity in the air. Images of scrambling down the gravelly, scree-strewn face of the mountain, dodging lightning strikes, began floating through my mind.

We had gotten a late start, leaving the house at 7 a.m., stopping for coffee, generally not rushing to the trailhead, and it wasn't until almost 10 a.m. that we got onto the trail and began the long ascent. The relief of finally being up in the high country pushed us along at a healthy pace, through classic subalpine Colorado forests, which unfortunately now include swaths of dead and dying lodgepole pines scattered among healthier blue and Engelmann spruce. Spots of color radiated from budding red Indian paintbrush plants, and the clear waters of Denny Creek brought coolness to the air.

The sun was hidden behind a layer of gray all day, which kept things cool but also foretold problems for tardy climbers such as us. Even at the trailhead I mentally prepared to play this one conservatively - lightning is not a force to be trifled with.

Peak fever came on slowly, but with strength, as my wife and I found a more comfortable pace above treeline. Miniature silhouettes of more prudent, punctual climbers could be seen against the gray background of sky as they signed their names atop the log at Yale's summit, and I longed to join them, sign my name to that piece of paper which would otherwise seem meaningless, but gains significance with each groaning foot of elevation, each shallow breath, each moment an investment toward the payoff of accomplishment. The growing passion to finish what we started began to carry the weight of a moral point of demarcation. I began the inner dialogue: What kind of man am I, to come this far and not reach my goals? What life results from half-hearted attempts, unfinished business, and delayed summits? We pushed forward, silently, at something slightly slower than a slog and only slightly faster than a downright crawl.

It was memories of Mt Massive that eventually brought us to a lovely terrace below the main ridge, the highest point we would reach that day. We joined a couple from Denver in a few moments of reverie, enjoying the view, knowing that an attempt at the summit would be foolhardy, if not deadly, with thunderheads gathering force in all directions. We could probably see 15 of Colorado's 54 fourteeners from where we sat, and all those were shrouded in fast-gathering thunderheads. Stuck atop Mt. Massive a few years ago, a friend and I weathered a heavy blizzard and booming lighting which struck less than a mile away. Our hair stood on end like something from a Halloween prank. Nothing felt so good as the shelter of life below treeline, and though it makes a good story, I felt no need to duplicate the experience.

At Yale, others continued upward as we turned back downhill. We had been defeated in our goal of reaching the top, yet safe in the knowledge that we had wisely, maturely, overcome a bout of peak fever.

It was the right decision, the safe thing to do, and surely our mother's would say we were sensible.

But we did not attain the summit, and for that my hubris will not forgive me.


Comment on "To summit or not to summit? Lightning halts ascent of Mt. Yale 14er" using the form below