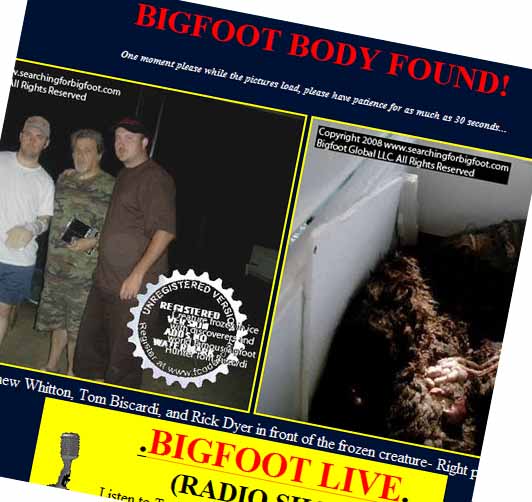 The website which forwards the claim is worth a few moments of entertainment, but a body will have to be produced to win over skeptics.
searchingforbigfoot.com
searchingforbigfoot.com
Blog Tools
Comments
PermaLink
Two men claim to have captured Bigfoot in northern Georgia
By Tom Boyd
August 14, 2008 — Editor's note: The press conference referred to in this article was held August 15 in Palo Alto.

A very, very tall tale is about to be told in California. Seven feet, seven inches tall, in fact.

That's the height of the legendary Bigfoot which two Georgia men claim to have captured in the northern part of their state. The two men – a cop and correctional officer – will join a Bigfoot bigwig when they provide tantalizing evidence of the capture at a press conference in California at noon on Aug. 15.

The press conference will be tantalizing, rather than proof-positive, because the trio will make statements and show pictures of the body, which is said to weigh more than 500 pounds, but won't produce the body itself.

See what happens when Georgia and California mix?

This hot-off-the-presses release came to RealVail through the magic of the internet (the same rock-solid news source which has given us the 7,000 pound grizzly bear, free lunar real estate, video of the UFO which buzzed New York City and, now that I think about it, this very story). But we here at RealVail are determined to not doubt a word of this fantastic claim until it's officially debunked, which we're hoping will be never.

We have, after all, thrived for eight years on our own local rash of bigfoot sightings in 2000, when two hikers coming out of the Snowmass wilderness claimed to have been shadowed by two hairy, humanlike creatures with glowing eyes.

Large footprints were found along the Eagle River in that same year by former Vail resident Bill Brice.

Clearly the two hikers had never seen really dirty, really high hippies before – but Brice's footprints were never fully explained.

Which is just how we like it – unexplained and mysterious. It helps us do things like drive traffic to the website www.searchingforbigfoot.com, which is home to the latest bigfoot press release.

The two men, Matthew Whitton (AKA Gary Parker) and Rick Dyer (sic.), deliver some astounding information about this bigfoot in their press release. The monster is male, has reddish hair, blackish-grey eyes, and judging from the picture of it submerged in a giant cooler of ice, it's either dead or thrives in a sub-zero environment. Dead seems to win the day, though, since its purple tongue curls out from its human-like teeth in a decidedly dead-looking way.

The press release diverges from the main point soon after the "factual" description of the bigfoot, focusing instead on the amazing bigfoot hunting capabilities of a man who has never bagged a bigfoot: Tom Biscardi … who also seems to be the man who wrote the press release.

But perhaps this latest bigfoot event is more than just an effort to raise awareness of the small and poorly designed website searchingforbigfoot.com. Perhaps instead this is Georgia's effort to take back the headlines from its embattled counterpart in Central Asia, the nation of Georgia, which has selfishly been stealing the spotlight with its escalating conflict with Russia.

Now that the news is headed back where it belongs (read: here in the United States of America), let me be the first to welcome back the real Georgia in all its glory.

Congratulations to Matt and Rick, and I'll see you at the press release at noon where I will be revealing the first-ever photos of the elusive man-porpoise-goat-pig, which wandered through my backyard yesterday.


2 Comments on "Two men claim to have captured Bigfoot in northern Georgia"