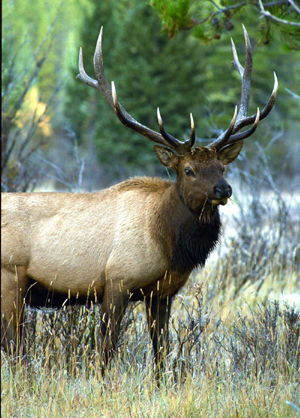 The elk above was photographed in Rocky Mountain National Park, probably a non-hunterís best shot at seeing one of these majestic creatures up close.
Photo by Dan Davis
trekkerphoto.com
Blog Tools
Comments
PermaLink
Why this is my favorite time of the year, Part I
The elk
By Tom Boyd
October 4, 2007 — I could smell him before I saw him. A tidal wave of odor washed over me with such force that, I swear, I could almost see the musk in the air.

Then I heard him Ė noise which could only come from an animal larger than or equal to the bulk of a VW bug. A few quiet steps to the northeast and I could see movement, a sapling tree swinging violently left and right, and as my eyes adjusted I figured the scene: a 4-point bull elk was having his way with a lodgepole pine, using the unfortunate tree as a rubbing post for his impressive rack of antlers.

I once had a roommate, named Johan, who liberally applied a cocktail of colognes and hairspray to his lanky corpus each and every Saturday night. With exceptions for Johan, I have never known so pungent an odor as the one which radiates from bull elk during rut. It worked for Johan (though I never understood why) and it works for the bulls, too: A few moments later I spied a cow elk nearby, chewing her cud in the shade of a fallen log. My 4-point had managed to collect himself a harem of one Ö and for her he had battled fiercely - bare patches and scars pock-marked his wide flanks.

This week the elk are in rut, piercing the tranquility of Eagle Countyís forests with their hollow, haunting bugles and then reveling in the process of propagation. Getting close to elk, especially elk on public land, is quite difficult, but I managed to get within 15 feet of this 4-point in part because I was lucky, but in part because he was so in love with his girlfriend, so happy to be part of the rites of autumn, that he didnít seem to care what happened next. His violent head motions left his eyesight useless, and the wind was in my favor Ö I crept close enough to shoot a photograph, reached slowly for my camera, and moments before I could shoot he turned and slowly walked away.

So, what can I say? He left me photo-less and breathless, so for this blog I am happy to use a photo from the wily tracker/photographer Dan Davis. Even so, to be in the presence of these animals is perhaps the greatest thrill of my life here in Vail. This time of year, when the leaves are falling and rut is in full swing, is the best time to heighten the senses, listen, look, smell, and search out the elk.

And that is one, but only one, reason why this is my favorite time of year.


Comment on "Why this is my favorite time of the year, Part I" using the form below