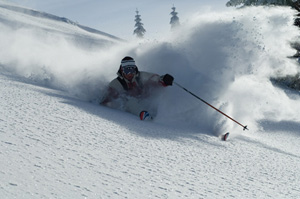 Chris Anthony samples some of the goods in South Game Creek bowl at Vail.
Photo by Dan Davis
trekkerphoto.com
Blog Tools
Comments
PermaLink
The paradox of powder stashes on Vail and Beaver Creek
By Tom Boyd
December 27, 2008 — It's one of the great dilemmas of the modern skier: how do you find the great powder stashes on Vail and Beaver Creek mountain and, once discovered, how do you keep them secret?

In this day and age, it's a matter of a few clicks of the mouse and realvail.com could very easily show a treasure map of where to go to get your powder fix long after the main runs have been trammeled. Since I'd rather not be unceremoniously ejected from town, black-listed forever as "the guy who told everyone where the powder stashes are," I chose instead to post a powder primer, a kind of "how-to" for getting out and discovering the stashes on your own.

Check it out at www.realvail.com/powder. It's my way of teasing some of the hidden stashes on Vail while also delivering pointers to go find the more obvious, well-known powder stashes on Vail and Beaver Creek. It's a far cry from the "pirate treasure" map made by an infamous Steamboat skier. The Steamboat map was translucent and could be laid over the top of a Steamboat trail map – powder stashes were marked by little treasure boxes. As handy as this was for the newcomer, it made many a powder hound howl with displeasure, and last I heard the map-maker was scraping tar and feathers off his tanned little hide.

With more than 12 cumulative feet of snow already fallen in the 2008-2009 season in Vail, however, you don't need a pirate treasure map to find your private stash – all you really need is a lift ticket.

Learning to ski it well is another matter entirely. I spent a portion of this recent Christmas season skiing with my in-laws, a few of whom were struggling with the huge amounts of fresh white gold we've been harvesting here in recent weeks.

Not everyone gets as excited about skiing powder as I do – sometimes the groomers are just the thing. I always try and encourage inexperienced skiers to get out and try the powder a bit, get used to it, and try and learn to enjoy riding untrammeled snow because, as many of you will agree, it's what skiing and riding is all about.

So here's the bit of advice I gave to the in-laws as they ventured out into the deep stuff: Keep your knees bent and sit low in your "chair," with your butt down low but with your shins pushed forward against the front of your boots. Drive the knees and shins forward into your turns, but keep the butt low as a kind of ballast. Keep up your speed – it's harder to turn in powder when you're moving slow, and carve forward with your hands up in front of your chest as you push through the turn. It can be tiring, yes, but standing up straight or leaning backward will be even more tiring and much more likely to provide you with a hefty face plant.

So with those few tips up on the net for all to see, I'm going to go out and put them to the test in this week's fantastic conditions. Good luck and see you out there.


Comment on "The paradox of powder stashes on Vail and Beaver Creek" using the form below