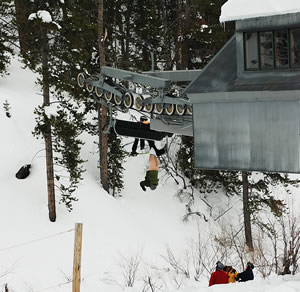 An unidentified man dangles from Vail Chair 37 Skyline Express Lift at the bottom of Blue Sky Basin and Tea Cup Bowl in Vail's Back Bowls. Vail infamy in the making.
Photo courtesy of SmokingGun.com
thesmokinggun.com
Blog Tools
Comments
PermaLink
If unfamiliar with use of lift, ask an attendant for instruction
Bottom's up at Blue Sky's Skyline
By Scott Proper
January 6, 2009 — Hey, we've all been there. You know, the lift comes around, you're a little busy daydreaming about something else, and all of a sudden the chair catches you off guard. Next thing you know, you are hanging from the lift upside down for 15 minutes with your pants around your ankles, which of course are now above your head. You are on display for the whole world of tourists to take photos and entertain themselves while you flail and await rescue.

Er, wait a second. Doesn't sound familiar? Well, it happened at Vail recently.

Photos taken by concerned citizens mysteriously made their way onto prominent websites and newspapers almost immediately. Ah, the information age. What a blessing to learn immediately about a profound human event like this.

Soon afterward, the virtual peanut gallery started chiming in. I read a letter to the editor of the local paper censuring the paper for printing a photo of the improvised ski lift trapeze artist, stating that printing the photos was in poor taste.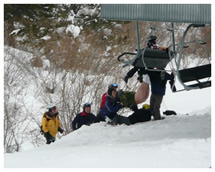 Lift ops in Vail's back bowls assist in the emergency

People need to chill out. The guy wasn't hurt. This kind of stuff doesn't happen every day. The man is not identifiable through the photos. There is no full frontal nudity. And if anything, it's FUNNY! If you can't have a sense of humor about anything (or everything), then it's time to reassess. I mean you don't sweat the small stuff, and it's all small stuff.

Meanwhile, if our improvised trapeze artist would please come forward, I would happily buy him a beer. Maybe I would also volunteer a quick chairlift lesson. After all, thanks for reminding us that there is a reason for the sign at each chairlift that says "If unfamiliar with use of chairlift, please ask an attendant for instruction."


Comment on "If unfamiliar with use of lift, ask an attendant for instruction" using the form below