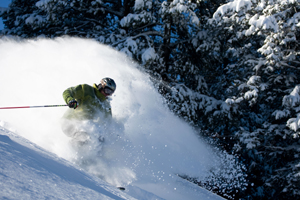 Story Tools
Comments
More Resort Guides
A skier's guide to Beaver Creek
By Tom Boyd
December 18, 2007 — There is a gray finish nail driven into the cedar siding of my parent's old West Vail House which has acted, for as long as I can remember, as a repository for the family's ski passes.

Crowded with lanyards made from shoelace string, beads and yarn, the nail holds aloft emblems of the family's long history of skiing in Vail and Beaver Creek, which date back to my father's arrival in Vail in 1963.

Thumbing through a few laminated passes on a recent family get-together, I found my old pass from 1980-81.

It shows a photo of me as a blond, front-tooth-missing five-year-old, and it is the very first season pass I ever owned which not only gained me access to Vail, but also to a place that was new that year: Beaver Creek.
Fast Facts
Ski Season: Nov. 21, 2007-April 13, 2008

Hours of Operation: 8:30 a.m. to 4 p.m.

Base Elevation: (Beaver Creek Village) 8,100 ft.

Summit Elevation: (Beaver Creek Mountain) 11,440 ft./3,488 m

Vertical Rise: 4,040 ft.

Annual Average Snowfall: 310 inches

Snowmaking: 605 acres

Total Skiable Area: 1,805 acres

Total Number of Lifts: 16

Gondolas: 2

High-Speed Quads: 10

Triple Chairs: 2

Double Chairs: 3

Total Uphill Capacity/Hour: 25,939
It's been 27 years since that pass allowed me to make my first tracks at Beaver Creek, and since that time the mountain has become as familiar to me as the vintage family photos – many of which portray us skiing on Beaver Creek's slopes. There are wide-open flats I ski with my nieces and nephews, steeps I ski with my friends, and powder stashes which I have been sworn to reveal to no one but blood relatives.

My apologies for keeping secrets, but finding stashes on one's own is perhaps the greatest adventure in skiing, and I wouldn't want to deprive the reader of that joy. However, someone new to a big mountain like Beaver Creek can always use a bit of advice on where to go in general, and what to expect upon arrival. I've put together this little guide to share some of the knowledge I've gained and help make Beaver Creek as enjoyable to newcomers as it is to me, my family, and my friends.


New stuff:


Riverfront Gondola: The town of Avon will be linked to Beaver Creek by the new Riverfront ExpressGondola, expected to open during this winter season. The gondola connects the new, $500 million Riverfront Village project to Beaver Creek Landing, where two high-speed quads to the main mountain. The gondola is another portal to Beaver Creek mountain, and is expected to decrease traffic.


Buckaroo Express Gondola: This new, eight-passenger gondola replaces the Haymeadow Lift (#1) and provides a short ride designed with the resort's smallest customers in mind. With a ride time of just 3.75 minutes, the Buckaroo gives kids (and grownups) a warm and comfortable ride to beginner learning terrain.


Diamond in the Rough grooming program: Beaver Creek does a great job grooming, which they'll continue to do with this season's "Diamond in the Rough" initiative, which will aim to groom one or more black diamond trail each night.


Talon's Challenge:

The talon's challenge began as a kind of unofficial verbal challenge between local skiers whowanted to prove their mettle on Beaver Creek's black diamond bump runs. Since then it has become a sweeping success, and each year hundreds try to "tame" the mountain by taking on 13 runs and 23,722 vertical feet of advanced terrain – all in one day. Those who succeed earn big-time bragging rights. For more on the Talon's Challenge visit http://beavercreek.snow.com/ss.children.talons.asp


Skier's guide:
Green
The tendency for anyone beginner skier is to stay near the main base area at the bottom of the Centennial lift, but only a fraction of Beaver Creek's 340 acres of beginner terrain are located in that area, and new skiers would be missing out if they didn't explore the Bachelor Gulch area. Wide-open runs, limited crowds, and spectacular groomed runs (not to mention fine dining) define this casual portion of the mountain.
Also explore the inviting terrain beneath the ArrowBahn Express lift. A day skiing from Centennial, over to ArrowBahn, and back again is an excellent goal for a beginner skier. For another view and another feel, try the tippy-top of Rose Bowl and ski down to the top of Centennial lift.
Blue
Before hopping onto Centennial and riding up to mid-mountain, slide across the bridge to the Strawberry Park lift and prepare to behold ski terrain which is uncrowded and full of surprises. An intermediate could spend more than a few days simply riding this one lift, trading Pitchfork for Bitterroot and cruising on Settler's Way, then trading Bitterroot for President Ford's and doing it all over again. A touch of black diamond atop Stacker is always there for those who want to go to the next level, and a series of greens leave an escape route down to Bachelor Gulch.
Perhaps the best run on the whole mountain, however, is Larkspur, atop the new Larkspur lift, which allows wide-open cruising on skier's right, plus a few bumpy black-diamond side runs on skier's right.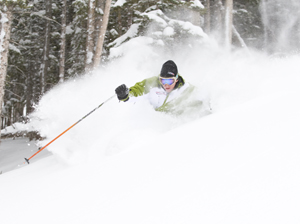 Black
Expert bump skiers have always loved Beaver Creek's long and challenging Birds of Prey runs, but the opening of Stone Creek added even more to the mountain this past season. Stone Creek was long a favorite backcountry skiing zone for intrepid locals, but it's now open to ticket holders, bringing 180 acres of expert terrain to the mountain.

The Elk Glades are a tree-skier's dream – so long as snow cover is deep enough to provide good cover, and Rose Bowl can provide day after day of great skiing. Each trip down Rosebowl offers a new line: Ripsaw is a great place to see if you've got the legs to call yourself an expert, and Web and Spider are challenging, off-the-fall-line runs which allow a skier to get creative in their choice of route.

Terrain parks

The experts who design and build Beaver Creek's terrain parks have one goal in mind: make it fun. Some of the bigger parks may seem intimidating, but a terrain park called, "Park 101" is there to help a hot shot get started, and it's one of the favorite places for Beaver Creek's Top Gun class of terrain park instructors to take students. It's located off the top of Cinch Express (chair 8).

The Zoom Room is the next step. It starts a bit smaller at the top, then builds its way to a dramatic finish. It's also located at the top of Cinch Express.

It's Moonshine for the big dogs – and there's all bite and no bark to this bad boy. The Moonshine terrain park is on par with any of the parks ridden in X Games or Olympic competition. Located off the Centennial Express chairlift, Moonshine will allow a rider to stretch his or her limits. The 400-foot-long half pipe makes for a fun-filled finish to a trip down this park.


Comment on "A skier's guide to Beaver Creek" using the form below