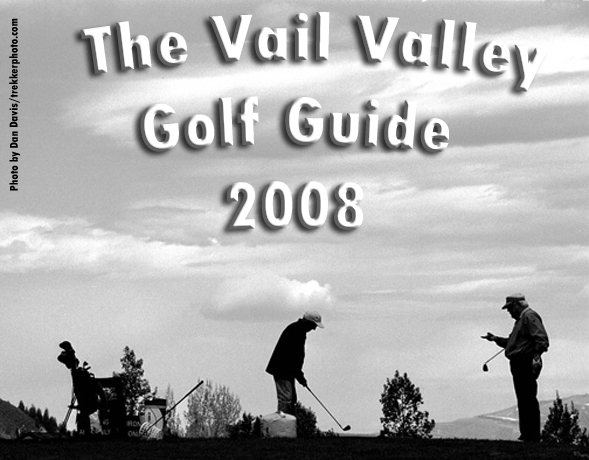 There's nothing that quite compares to teeing off in the Valley's rare atmosphere.
Photo by Dan Davis
trekkerphoto.com
Story Tools
Comments
More Resort Guides
The 2008 Vail golf guide
A complete review of the Valley's golf courses
By realvail.com
June 14, 2008 —
Beaver Creek Golf Club

This superior course winds golfers through the Beaver Creek valley just beneath the ski slopes of Beaver Creek Mountain. The mountainous feel and atmosphere of Beaver Creek gives a tight feel at times, and tactical golf is a must. A whisky sour at the clubhouse is the perfect way to finish off a day at Beaver Creek. The Club is public in early and later season (spring and fall) and private during summertime.
Par/Yardage: Par 70, 6,750 yards
Designer: Robert Trent Jones, Jr.
Status: Public/private
Phone: (970) 754-5775
Website: www.beavercreek.com
Email: bcgolf@vailresorts.com

Club at Cordillera Mountain Course

It may seem a little incongruous when the Cordillera motorcycle club comes rolling past the fairways of the CMC on their souped-up Harleys, but that's just the way things are at Cordillera. Beneath its opulent veneer there's a latent "biker-bar" atmosphere waiting to burst forth, yet the real horsepower comes from this course's rumbling hills and high-octane approach shots. Showing up on a hog might be the right way to show up for your tee-time here, because it a biker's burly attitude to take on this super-challenging, topographically varied course.
Par/Yardage: Par 72, 7,413 yards
Designer: Hale Irwin
Status: Private
Phone: (970) 926-5100
Website: www.cordillera-vail.com


Want to know more about golf in Vail?
Don't hesitate to
contact us
and get the insight of our local golf gurus.
Club at Cordillera Short Course

This is a course where the restaurant almost overshadows the course. Without a doubt the valley's finest Irish pub, the cozy Grouse on the Green is home to a spacious deck with unrivaled views of the Vail Valley far below. Guiness' and fish tacos at Grouse on the Green are the real reason golfers head to the Short Course, but the golf shouldn't be overlooked. Well-groomed and meticulously maintained, the Short Course is a 9-hole collection of entertaining par-3s with hands-down the best views in the valley. Bring a 7-iron, a PW, a putter and an appetite.
Par/Yardage: Par 27, 1,252
Designer: David Pelz
Status: Private
Phone: (970) 926-5550
Website: www.cordillera-vail.com

Club at Cordillera Summit Course

Jack Nicklaus and former President Jerry Ford were among the big names present at this course's opening in 2001. At 9,000 feet above sea level, this course truly is on the Summit. The rolling sage hillsides and aspen groves above Cordillera an atmosphere which normally comes only from hiking high into the Rockies. The beauty of this course is that Nicklaus, as he said during the course's grand opening, wanted to make a course where he could really let his driver loose in the mountain air. Rather than try and counter-oppose the high-altitude, as some designers have done in Vail, Nicklaus designed this course to compliment it, so there's plenty of room and lots of freedom to let loose at the Summit Course.
Par/Yardage: Par 72, 7,530 yards
Designer: Jack Nicklaus (Signature)
Status: Private
Phone: (970) 926-5100
Website: www.cordillera-vail.com

Club at Cordillera Valley Course

Cordillera is now, for the first time in several years, actively searching for new memberships. In former days, members usually had to buy property to become privy to Cordillera's high end, high service, golfing Shangri-La. The addition of the Summit Course is allowing management to re-open membership doors. New members will appreciate that the Valley Course is clearly Cordillera's most orthodox, sensible and straightforward course, and although it doesn't have the spectacular views of the other courses, it has what may be the finest clubhouse and facilities of them all – plus it's much easer and quicker to get to.
Par/Yardage: Par 71, 7,005 yards
Designer: Tom Fazio
Status: Private
Phone: (970) 926-5100
Website: www.cordillera-vail.com


Country Club of the Rockies at Arrowhead

This course has had a very well established name around the nation for more than a decade, which allows members to keep a very low profile, so socialites and party-goers may be disappointed. Arrowhead has a quieter, wind-blowing-through-the-aspens appeal, especially in autumn when it's beautiful arboreal atmosphere is in full color. Members and management were so serious about maintaining the tranquility of the club that, in 2003, they built large birms to create an acoustic barrier between the club and the highway nearby.
Par/Yardage: Par 72, 6,785 yards
Designer: Jack Nicklaus (Signature)
Status: Private
Phone: (970) 926-3021
Website:www.countrycluboftherockies.com

Cotton Ranch

The warmest of all Vail's courses, this course is located in an area of the Valley dubbed "hole in the sky" by the Native Americans who frequently visited the area during otherwise cold winters. The geography surrounding the course keeps it warm nearly year-round, and play opens up as early as February during mild winters, continuing well into the autumn. With only a slight margin between fairway and out-of-bounds, the design of the course requires a fair grasp of ball control, particularly on the back nine, which weaves its way through a plateau that looks as if it came right out of an Old West movie.
Par/Yardage: Par 72, 7,052 yards
Designer: Pete Dye
Status: Semi-Private
Phone: (970) 524-6200
Website: www.cottonranchclub.com

Eagle Ranch

CNN recently filmed the grounds at Eagle Ranch as part of their series on America's finest places for young couples and families to live. What the major network found out is something locals have known for years: this course delivers more bang for your buck than any other course in the Valley. Carts equipped with GPS and world-class services are mixed with a playable, fair course along the edges of the quaint town of Eagle. The rough isn't too rough, yet experienced players can find plenty of challenges along its long fairways and a few nook-and-cranny greens. Locals have often declared it their favorite, even over the highly-touted private courses of the valley.
Par/Yardage: Par 72, 7,500 yards
Designer: Arnold Palmer (Signature)
Status: Public
Phone: (970) 328-2882 or (866) 328-3232
Website: www.eagleranchgolf.com

Eagle Springs

Wide-open sagebrush surround this club on three sides, while the Eagle River flows quietly by on the club's other side, separating it from the rest of the valley in space and in luxury. With no neighborhood surrounding it, and very little action from the limited number of members and guests, a golfer can swing with prudence and leisure through this challenging and tactical course. The very exclusive club is rumored to be accepting new members this year.
Par/Yardage: Par 71, 7,058 yards
Designer: Tom Weiskopf
Status: Private
Phone: (970) 926-4404
Website: www.eaglesprings.org

Eagle-Vail Golf Club

Golf fanatics aren't going to be overwhelmed with this run-of-the-mill course, but when it comes to a simple, affordable, day of golf Eagle-Vail delivers. What the course lacks for in intrigue it makes up for with novelty tee shots, funky lies, and fun, almost put-put-style creativity on some of its holes. What Eagle-Vail has going for it is that it's relatively affordable, casual, and easy to get to.
Par/Yardage: Par 72, 6,819 yards
Status: Public
Phone: (970) 949-5267
Website: www.eaglevailgolfclub.org

Red Sky Golf Club Fazio Course

From the very minute a golfer sets eyes on Red Sky, it becomes clear they're surrounded by some of the most beautiful grounds in golf. The views of the Fazio course demand attention, but so does the play. The front nine play along a wide-open, sagebrush hillside, while the back nine weave into an aspen-treed paradise, replete with intact wetlands and alpine vistas. At 7,650 feet above sea level, its compelling design has earned it a top 100 ranking from Golf Magazine. At the end of the day, players can relax at the 13,000-square-foot clubhouse and order up some of the rarest fine wines in the world.
Par/Yardage: Par 72, 7,113 yards
Status: Private, or lodging required
Designer: Tom Fazio
Phone: (970) 754-8425 or (866) 873-3759
Website: www.redskyranch.com

Red Sky Golf Club Norman Course

Greg Norman was not to be outdone when he built his course at Red Sky just over the hill from Fazio's course, especially since it would be his first course built in Colorado. Spread along a gently sloping sagebrush-and-juniper hillside, the Norman Course was nominated the Best New Course in the United States by Golf Magazine in 2004, and it continues to earn accolades to this day for it's consistency in design. Socialites from around the world gather at the private clubhouse there, sipping dry martinis by the pool while overlooking Norman's inspired creation below.
Par/Yardage: Par 72, 7,580 yards
Status: Private, or lodging required
Designer: Greg Norman
Phone: (970) 477-8400 or (866) 873-3759
Website: www.redskyranch.com

Sonnenalp Golf Club

This was the course which raised the bar for golf in the Vail Valley when it was built in the 1980s. It provides golfers with tighter bunkers than traditional courses, but give a bit of leeway to the odd miscue. Open but creatively demanding, it requires a subtle touch and element of control. Locals have virtually lined up to live near the course in the peaceful neighborhood which surrounds the course – and twilight golfers are almost always getting a few final strokes in when the day is coming to a close at this vibrant and much-loved course.
Par/Yardage: Par 71, 7,059 yards
Status: Private
Phone: (970) 477-5370
Website: www.sonnenalp.com

Vail Golf Club

This is the Vail original, built almost single-handedly by Vail pioneer Ben Krueger to help bring guests to Vail in the summertime. Simple and strong, the course has lasted the test of time, and is still thought of as the best by many of Vail's longtime golfers. Its location near the Vail Village makes it convenient, popular, and one of Vail's prized possessions, particularly for its view of the Gore Range.
Par/Yardage: Par 71, 6,740 yards
Status: Public
Designer: Ben Krueger
Phone: (970) 477-8400 or (866) 873-3759
Website: www.vailrec.com

Willow Creek at Eagle Vail

Bring a nine iron, a putter, a pair of jeans and a few good friends to this casual golf course. Each of the nine holes are par 3 and make for a social golf experience.
Par/Yardage: Par 27, 767 yards
Status: Public
Phone: (970) 845-PAR3 or (800) 341-8051
Website: www.eaglevail.org

Brightwater Club
Brightwater personnel are confident their new project, an 18-hole course designed by Robert Trent Jones, Jr., will one day rival the best in the Vail Valley with long fairways and tactical green approaches. Nine holes of the course have been completed and the rest, soon to be completed in Gypsum on the valley floor, should offer some of the warmest weather conditions in the valley. Brightwater developers are planning on making it the keystone of their new village, which also offers horseback riding, fishing, hiking, mountain biking, dancing, dinners, and much more.
Par/Yardage: Par 72, yardage undetermined
Designer: Robert Trent Jones, Jr.
Status: Private
Phone: (888) 414-0363
Website: www.brightwaterclub.com

Comment on "The 2008 Vail golf guide" using the form below