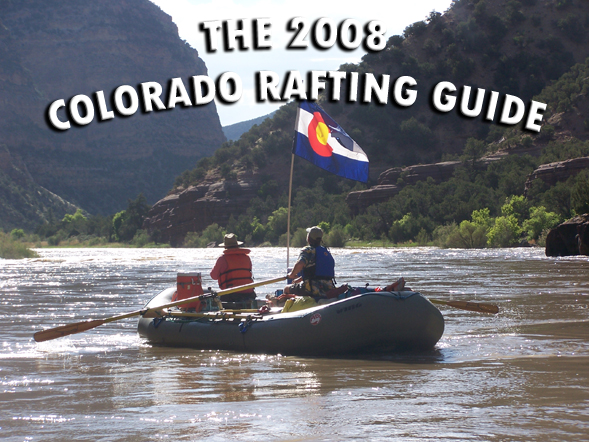 Floating on the flatwater can be just as satisfying as running the rapids.
Courtesy Colorado River Outfitters Association
croa.org
Story Tools
Comments
More Resort Guides
Colorado rafting guide
Big water is expected around the state this year
By Tom Boyd
May 19, 2008 — (Editor's note: scroll down to see recommended guide services, recommended runs, and links).

Tom Kleinschnitz isn't clairvoyant, but each spring he can look up at the snow-capped Rocky Mountains and see the future.

This season his future is looking very, very bright.

Long into this rafting season, Colorado's peaks will retain their reflective white sheen while cascades of fresh water fill Colorado's river basins.

Record, or near-record, snows have fallen throughout the state. Unlike years past, the snow has been distributed equally throughout the river basins, which ensures good rafting and kayaking throughout the summer, statewide, in perhaps the best water year in decades.

"This is an absolutely, extraordinarily, great snow pack," said Kleinschnitz, who is chairman of the Colorado River Outfitter's Association and owner of Adventure Bound River Expeditions out of Grand Junction.


RAFTING TIPS AND RIVER CLASSIFICATIONS
What to bring: Swimsuit; old tennis shoes, river shoes, or strap-on sandals; sunscreen; warm clothes to change into at the take-out; water-proof camera; wide brimmed hat that will fit under helmet.

Kids: Even in flatwater, families with children under 10 should wait until runoff is over this year, most likely mid-June. At that point, lifejackets (or personal floatation devices, or pfds) are available for anyone weighing 30 pounds or more, but most raft companies will only do flatwater trips with small children. This kind of trip can double as a fishing trip. The limit on class III and IV trips is up to the guide and the parents, and is decided on a case-by-case basis, but youths should be about 16 years old if they expect to paddle strenuous whitewater.

Sensible splashes: All raft companies provide life jackets and paddles, but some companies charge extra for water-resistant splash tops, wet suits, footwear or helmets. Be sure to ask your raft company what they are providing with their fee.

Fun in the sun: Colorado's high-altitude sunshine is stronger than at sea level. Rafters should wear waterproof sunscreen to avoid burns, even on partly cloudy or cold days.

Lunch and brunch: Some raft guiding services offer refreshment, snacks or lunch on the river, but some don't. A small amount of personal snack food can be stored away in dry bags for those who love to munch.

Dry and warm: Advances in gear technology have made it possible for rafters to stay dry and warm during an outing, even on a cold day. Expect challenges and discomfort on any raft trip, however - it's not going to be as comfortable as sitting on a livingroom couch.

Photo opportunities: Cameras should be waterproof, but a small amount (two hands full) of other valuables can be stowed away in dry bags, where they are easily accessible and out of harm's way.

Paddle power: Four-to-eight paddlers ride on a paddle raft with a guide. Teamwork skills are a must for adventurous rafters who try bigger rapids; a boat moves much more efficiently when paddlers all stroke at the same time.

Safety: A mandatory safety talk beforehand gives passengers the heads up on boating common sense.

Listen up: Following the commands of the guide, or captain, is a big part of rafting and meant to be taken seriously.

Difficulty rating system:

Class I: Easy. Wide open water with riffles and small waves (All-ages).

Class II: Novice. Straightforward rapids with wide, clear channels. (All-ages).

Class III: Intermediate. Larger waves, twists and turns in the river, some obstructive material.

Class IV: Advanced. Powerful water requiring precise boat maneuvering.

Class V: Expert. Tumbling, violent, and unpredictable water with multiple obstructive materials.

Class VI: Deadly. The most difficult, unpredictable, and violent water available.

Every single river basin in the state recorded above-average snowpack as of April 2008, according to the Natural Resources Conservation Service, which monitors snowpack in Colorado.

The Arkansas Basin, which hosts more rafters each summer than anywhere in the state, marked 141 percent of average. Combined with dam control and water management, Kleinschnitz predicts the Arkansas' rafting season will remain high-quality from now to well past Labor Day.

The Colorado River, which contains popular rafting runs like Vail's Eagle River, Summit County's Blue River, and the Upper Colorado's Gore Canyon, is reportedly 122 percent above average.

By the time the water collects and reaches Grand Junction, Ruby Horsetheif Canyon, and Westswater Canyon this June, Kleinshnitz expects about 30,000 cubic feet per second (cfs) of water to be pumping through the Colorado Utah border area.

Cataract Canyon in Utah, a popular destination for Colorado boaters because of its Grand Canyon-esque scenery and big whitewater, normally runs at about 30,000 cfs into Lake Powell. This year Kleinshnitz is preparing his guides for close to 100,000 cfs.

The numbers are similar throughout the state. The Yampa and White basin is close to 110 percent snowpack. The San Juan (southwestern Colorado) is at 124 percent. Statewide, the average snowpack is measured at 122 percent.

"It looks like it's going to be a fantastic season," Kleinschnitz said.

This motto holds true for beginners and experts alike. Big water may sound intimidating to the mellow-at-heart, but river dynamics ensure that, if there's water, there's plenty of runs for every type of boater.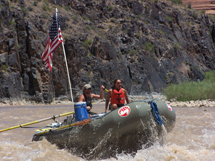 In big water, flat sections of river remain flat, and even some difficult runs flatten out, too.

Much depends on the weather through June. A wet, rainy spring will ensure a very long season throughout the state. A sunny, warm spring will bring some of the biggest water the state has seen since the memorable 1984 season, which saw some of the biggest water on record.

Knowledge of the state's water supplies isn't critical for most − that's what the guides are for.

The key is to find the right guide and to make sure to ask good questions. River runners should be very up-front about their ability level and experience.

Also, conditions constantly change. Contact a guide, then let the guide find the right run for the ability level of the group.

Good gear is important, too, and it's likely the biggest difference between one raft company and another. Equipment quality can make or break a trip – especially during the colder, early months of the season.

Most accidents on rivers happen to those without a life jacket (or personal flotation device, or pfd). Colorado's rivers are wild and unpredictable: wearing a pfd is an absolute necessity on every stretch of river in the state.

For brochures and information on half-day, full-day, or multi day rafting adventures anywhere in Colorado, call the Colorado River Outfitters Association at (303) 280-2554 or check out www.croa.org.



Top rafting trips

Here are suggestions for rafting trips for three different categories: scenic beauty, fun factor, and big adventure, along with a selection of guide services which operate in that area.

Scenic Beauty

Ruby Horsetheif on the Colorado River, class I-II: Those who shy away from the rapids of Westwater Canyon downstream revel in the tranquility of Ruby/Horsetheif, located on the Utah-Colorado border near Grand Junction. The southern bank of the river is largely wilderness area, and offers beautiful hiking and even some ancient Native American petro glyphs. The northern bank is excellent four-wheeling, horseback riding, or mountain bike riding. All of it makes for great grilling out and relaxing in the sun. This is among the most mellow runs in the state. Contact Adventure Bound River Expeditions at (800) 423-2668 or visit www.adventureboundusa.com.

State Bridge on the Upper Colorado River, Class II: The Colorado River takes its time wandering through this high desert scenery between Pump House and State Bridge (between Vail and Steamboat), but a few interspersed rapids can still make a big splash. At lower levels (after mid-June) this is the place for inflatable kayaks and first-timers, but beware: big water in this canyon can be surprisingly dangerous, cold, and unpredictable. Inexperienced rafters and fisherman should stay away until runoff subsides. There are many different outfitters who operate on this stretch, but for a start call Colorado River Runs at (800) 826-1081 or visit www.coloradoriverruns.com; or call (970) 845-RAFT (845-7238) or visit www.novaguides.com.

Durango town run on the Animas River, Class II: Short of water in recent years, this stretch will likely have 90-plus days of rafting this year. At any level, this run is like a Sunday drive through the quaint mountain town of Durango. Rafters can stop, stretch, and hang out with the locals before floating into the alpine scenery downstream. Rafters can also watch the acrobatics of local kayakers as they perform tricks in Durango's whitewater park. There are many different outfitters who operate on this stretch, but for a start call Durango River Trippers at (800) 292-2885 or visit www.durangorivertrippers.com; or call Mountain Waters Rafting at (800) 585-8243 or visit www.durangorafting.com; or call Outlaw River and Jeep Tours at (877) 259-1800 or visit www.outlawtours.com.

Fun Factor

Shoshone on the Colorado River, class III:This is Colorado's classic rafting experience. Dam-release water ensures that first-timers and veterans alike can enjoy the big, soft waves of Shoshone in Glenwood Canyon through every month of the year – but summertime is when the water is warm and inviting. Beware: This year the water will rage at an expert-only level through late May and early June, so consider the Grizzly Creek run just downstream during this time of year. There are many different outfitters who operate on this stretch, but for a start call Colorado Whitewater Rafting at (800) 993-7238 or visit www.coloradowhitewaterrafting.com; or call Rock Gardens Rafting at (800) 958-6737 or visit www.rockgardens.com.

Brown's Canyon on the Arkansas River, class III: Clearly the state's most popular rafting destination, Brown's Canyon on the Arkansas offers swelling waves and rugged mountain scenery. Brown's Canyon is somewhat dam controlled, meaning this year's season ought to extend well into September. There are many different outfitters who operate on the this stretch, but for a start call Wilderness Aware Rafting at (800) 462-7238 or visit www.inaraft.com; or call Arkansas River Tours at (800) 321-4352 or visit www.arkansasrivertours.comor call Good Times Rafting at (800) 808-0357 or visit www.goodtimesrafting.com; or call Four Corners Rafting at (866) 745-7238 or visit www.fourcornersrafting.com.

Dumont on Clear Creek, Class III – IV-: Front Range residents can make a day-trip out of the Dumont run and cool off on a small, fast-paced mountain stream. From Dumont all the way to Golden, Clear Creek offers a run-and-gun journey through a canyon ecosystem which seems worlds away from the roads which follow its course. Kayakers should be sure to visit the very popular whitewater park in the heart of Golden. There are many different outfitters who operate on this stretch, but for a start call Clear Creek Rafting at (800) 353-9901 or visit www.clearcreekrafting.com.

Adventure

Dowd Chute on the Eagle River, Class IV: Snowmelt from Vail's high country ensures that this local favorite is always rockin' in June. Ask your outfitter what "the gauge" reads, and get ready for a wild ride anywhere at 5 feet or higher, with mellower rides under 5 feet. If the sun comes out this spring, the gauge may all but disappear – if that's the case, choose to put in downstream of the Chute unless you're ready for the ride of your life. There are many different outfitters who operate on this stretch, but for a start call Nova Guides at (888) 949-NOVA (6682) or visit www.novaguides.com; or call Lakota Guides at (970) 845-RAFT (845-7238) or visit www.lakotariver.com; or call Timberline Tours at (970) 476-1414 or visit www.timberlinetours.com.

Pine Creek/Numbers on the Arkansas River, class IV – IV+: This could be one of the best year's ever on the Numbers. At peak runoff it will provide the adrenaline it's been lacking in recent years, and after runoff it ought to be a great challenge for strong groups looking for a team-building experience. Twisting and turning, the run requires lots of paddling and the ability to listen well to the guide. For information call Arkansas River Tours at (800) 321-4352 or visit www.arkansasrivertours.com; or call Good Times Rafting at (800) 808-0357 or visit www.goodtimesrafting.com; or call Four Corners Rafting at (866) 745-7238 or visit www.fourcornersrafting.com.

Cache La Poudre Canyon: The Poudre is Colorado's only federally-designated National Wild and Scenic River, and it lives up to its billing for every level of rafter. It is, in a word, sublime: Aquamarine water slides through regal rock formations of varying color and type. It's location near Ft. Collins makes it a great choice for those in the northern part of the state, but again, beware: this run will be absolutely cranking during runoff. For information call Rocky Mountain Adventures at (800) 858-6808 or visit www.shoprma.com.

THE BIG ADVENTURE

Gore Canyon on the Colorado River, Class V: If you've run class IV water and loved it, then a huge adrenaline fix awaits at Gore Canyon on the Colorado River. A classic, pool-drop class V, Gore Canyon's rapids involve river-wide waterfalls and strong potential to swim (be prepared for a possible flip!). But it's all in the name of a good time and it all happens in the tight narrows between the razor-sharp cliffs of Gore Canyon near Kremmling. Damn release makes the water levels of this run follow strange rules – it can sometimes be bigger in July than June, or visa versa. Only a few guide services run this stretch, so for a start call Timberline Tours at (970) 476-1414 or visit www.timberlinetours.com.


Comment on "Colorado rafting guide" using the form below