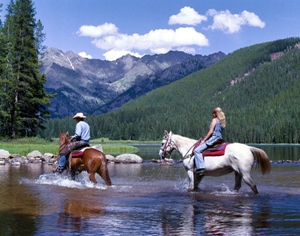 Late summer and early fall is the best possible time of the year for backcountry excursions on foot, horseback or Jeep.
Dan Davis
trekkerphoto.com
Story Tools
Comments
More Resort Guides
Seasonal recreation, culture guide to Vail, Beaver Creek
Never a dull moment at Vail, Beaver Creek, no matter the time of year
By David O. Williams
November 1, 2008 — The cliché resonates because it proves so unerringly accurate season after season: "People come to Vail for the winters but stay for the summers."

Unquestionably, snow is the draw. Up to 30 feet of it settles on the slopes of Vail Mountain between October and April. And sliding on it has made Vail what it is today - an unmatched snow sports paradise - but once it all starts melting many would argue that's when the Vail Valley is most alive with a diverse array of cultural and recreational offerings.

So it's fitting that our season-by-season look at all there is to do here begins in the late summer, when a short but sweet season is winding down and autumn awaits, with its bright, golden days, crisp, clear nights and promise of another epic ski season.

Love of summer

Former Vail owner George Gillett, who now owns companies as eclectic as meatpacking giant Swift & Co and the NHL's Montreal Canadiens, still chooses to live full-time in Vail. In the 1980s, during his Vail ownership tenure, he and his wife, Rose, actively nurtured the cultural seeds that had been planted when Vail was founded in the 1960s.

"It's the difference between a resort and a community," explains Gillett. "You start out as predominantly a winter resort, and if you really want to become a community, you have to understand where that experience fits into the overall. There's a four-legged stool in most of our lives and that is athletics and lifestyle; it is the cultural aspects - the enrichment, the growth - it is education; and it is medicine."

Founded in 1981, the Vail Valley Foundation (www.vvf.org) plays a critical role in three of those four functions, from organizing two World Alpine Ski Championships in 1989 and 1999 (second only to the Olympics in ski-racing prestige) to running the Vail International Dance Festival and the Vilar Center for the Arts to offering a variety of adult education, youth literacy and scholarship programs.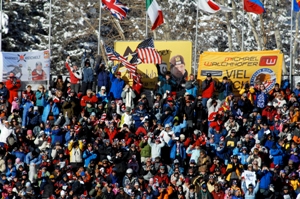 Early December is marked by World Cup ski racing at Beaver Creek, typically good snow conditions and killer early season lodging rates.

The dance festival, which typically runs from late July through mid-August, began in conjunction with the famed Bolshoi Ballet and has since grown under the direction of Katherine Kersten to encompass all forms of dance, from modern to interpretive to traditional. This season featured Mexico's Ballet de Monterrey and the National Ballet of China.

The other major cultural highlight of the season, also taking part mostly on the spectacular outdoor stage of the 2,500-seat Gerald R. Ford Amphitheater in Vail, is the Bravo! Vail Valley Music Festival (www.vailmusicfestival.org).

Bravo! usually takes place from late June through early August and brings more than 40 acclaimed soloists, ensembles and three resident orchestras to the valley - the Rochester Philharmonic Orchestra, Dallas Symphony Orchestra and the New York Philharmonic.

But if chilling to Tchaikovsky after a day of bruising mountain biking isn't your cup of tea, the amphitheater also draws rock, country and blues acts such as Bob Dylan, Phish, Willie Nelson, B.B. King, Santana and Norah Jones.

"When we bring meeting planners up here in August people are blown away," says Kelli McDonald, vice president of marketing for the Vail Valley Chamber and Tourism Bureau. "They just can't believe that once the snow melts it looks like this underneath, and people always comment on the brilliant blue skies.

"They also can't believe how much there is to do in the summer even if people aren't particularly athletic. They think, it's a ski resort so it must be the same way in the summer, but then they find they can sit outside and have a cocktail, get a spa treatment or go shopping, so many things ..."

Even in the summer, though, the mountains are the main attraction, and choose your activity, it's going on: rock climbing, mountain biking, hiking, gold-medal fly fishing, horseback riding, balloon flights, paragliding, river rafting, kayaking, gondola rides, paintball battles, Jeep tours, guided climbs of 14,000-foot peaks, world-class golf, skeet shooting, zip lines, camping, hay rides ... you name it (www.visitvailvalley.com), and you can probably do it.

And don't forget the rodeo. No matter how many orchestras spend the summer in Vail, this is still the Wild West, with the Eagle County Fair and Rodeo (www.eaglecounty.us/fair) highlighting the summer happenings at the end of July and into August in the county seat of Eagle, 35 miles west of Vail.

On a smaller scale, the Beaver Creek Rodeo kicks up its heels Thursday nights throughout the summer in the town of Avon at the base of Beaver Creek Resort (beavercreek.snow.com). But head up into the swank, gated resort itself for its own brand of sophistication in the form of the Beaver Creek Culinary Festival in late June or the Beaver Creek Arts Festival in late July.

Avon itself roars to life as the center of attention over the Fourth of July weekend, unleashing the largest fireworks display on the state's Western Slope, and Vail holds its own with its homey Vail America Days parade, all the while hosting one of the nation's largest lacrosse tournaments - the Vail Lacrosse Shootout (www.vaillacrosse.com).

Then just as quickly another far-too-fleeting high-country summer comes to an abrupt but soulfully satisfying end, culminating with the Vail Jazz Festival over the Labor Day weekend (www.vailjazz.org).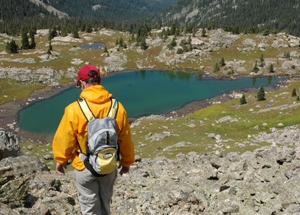 Hiking the high alpine lakes in and around Vail is an activity suited for virtually any season - just add snowshoes in the winter.

Fall: the unsung season

The peak summer season, from late June to late August can feel a bit frenetic. So when autumn rolls around and the crowds dissipate, the lodging rates come down, and the weather only seems more spectacular, many locals will tell you it's their favorite time of year.

"I think September and October are the premier weather months for hiking and biking and getting away from the crowds," says Nate Goldberg, director of the Beaver Creek Hiking Center (beavercreek.snow.com). "I love the weather cycle. It's so predictable, the temperatures are great, the clarity improves. It's hard to beat autumn hiking."

Daytime temperatures still top out well into the 70's, but the nighttime temps dip below freezing, turning aspen groves into shimmering golden pools set against the deep-green pine forests.

Unlike New England, where it's hard to find a room at the inn during "leaf-peeping" season, the Rockies enjoy an unheralded off-season in the fall, with room rates in premier properties descending into the imminently affordable range.

The magnificent lodge-style Ritz-Carlton, Bachelor Gulch, a stratospherically priced ultra-luxe pleasure palace in the winter, with its own spa, ski trails, base area and lift connection to Beaver Creek Mountain, is suddenly uncrowded and attainable to the masses in the fall.

With fewer events and many businesses adopting off-season hours, visitors may need to be a bit more self-directed in the fall, but still there are chances to be pampered as hotels and outfitters creatively try to fill the void.

The Park Hyatt Beaver Creek, for instance, offers Hyatt Hike and Spa Weeks in August and September (beavercreek.hyatt.com), which includes hiking, spa treatments, deluxe meals and lodging, and, weather permitting, could culminate in the summiting of one of Colorado's 54 peaks over 14,000 feet.

The Ritz-Carlton, Bachelor Gulch, throughout the summer and well into the fall, serves up an outdoor wellness experience called Mountain Spa Mornings (www.ritzcarlton.com/resorts/bachelor_gulch/) that starts with a guided hike through Bachelor Gulch to the historic Anderson's Cabin - built by one of the bachelors who lived in the gulch in the early 1900's - and includes outdoor yoga and a massage therapy session.

Leaf season is also a fantastic time for a backpack trip in one of Eagle County's three nearby wilderness areas - Eagle's Nest, Holy Cross or the Flat Tops - a Jeep tour in the White River National Forest (www.fs.fed.us/r2/whiteriver/), or late-season paddling on the Upper Colorado River in the remote northwest corner of the county.

The headwaters of the mighty river that goes on to carve out the Grand Canyon in Arizona are controlled by dam release so that long after other rivers and streams have hit peak water levels in early summer, the Colorado stays strong. A number of local outfitters offer float trips and fly fishing adventures well into October (www.visitvailvalley.com).

Still, as delightful as fall can be, it is really just a prelude to the main event.

Winter: the reason we're all here

About 20 percent of all of Colorado's skier visits (one skier skiing part of one day) occurred in Eagle County during the 2005-06 ski season: 1.67 million at Vail and 875,000 at Beaver Creek.

Record snows at Vail (more than 400 inches, or 34 feet, by early April) kept the snow riders showing up in droves, but that's not to say the slopes were overrun. With 5,289 skiable acres, even on its busiest days (20,000 or so skiers and snowboarders) Vail offers up an acre for every four snow riders, making it the largest single-mountain ski resort in North America (vail.snow.com).

The sheer size of Vail - it would be difficult to ski all 193 runs during a typical two-week ski vacation - places it squarely atop the annual ski magazine reader surveys every year, but Beaver Creek, 10 miles to the west and a world apart in terms of use, is quickly rising in the rankings.

"Vail is rated number one because of the vastness and diversity of the mountain, but if you look at the complete package of Beaver Creek, it's like a mini-Whistler (Vail's biggest competitor in British Columbia)," says former World Cup ski racer Chad Fleischer, who grew up in Vail. "Beaver Creek is the best-kept secret in the country."

Beaver Creek, which has added high-speed quad chairlifts each of the last two seasons and will get a new gondola for the 2007-08 season, just keeps getting better. For this coming ski season, the resort is adding 180 acres of gladed, semi-backcountry skiing in the form of its new Stone Creek Chutes expansion, taking its total acreage up to 1,805.

Beaver Creek is a high-tech resort with people movers and escalators whisking skiers to the lifts, but also boasts the winter equivalent of the Ford Amphitheater in Vail. Situated beneath a year-round ice rink, the 530-seat Vilar Center for the Arts (www.vilarcenter.org) attracts Broadway productions, big-name jazz and rock acts and touring comedians.

Beaver Creek also hosts a smattering of intriguing winter festivals and events, but its big draw comes early in the season. Almost from the moment the first flakes fall in late September or early October, crews start readying the legendary Birds of Prey Downhill Course, one of the most daunting ski-racing venues in the world.

Ski teams from around the world converge for early season training leading up to an annual men's World Cup race that's usually the only one on U.S. snow each season. Past winners of the races have included Olympians Bode Miller, Daron Rahlves and Hermann Maier. And with peak ski season still weeks away, the World Cup often comes with some of the best lodging deals and snow conditions of the year.

Vail speaks to a less mainstream but perhaps more enthusiastic youth market with its Honda Session snowboarding event in January, last season won by Olympic sensation Shaun White (vail.snow.com).

Then in March, the sun, intensified by Vail's 8,150-foot base elevation and thin atmosphere, slowly starts to whittle down the massive snowpack accumulated throughout the winter, creating some of the best conditions of the season but turning thoughts toward spring and summer pursuits.

Spring: renewal, rejuvenation

While spring technically begins in late March when the snow conditions often have more in common with mid-winter, things get pretty steamy by mid- to late-April when the lifts shut down for the season. Events such as Spring Back to Vail (vail.snow.com), the Vail Film Festival (www.vailfilmfestival.org), the Taste of Vail (www.tasteofvail.org), and Beaver Creek's Blues, Brews & BBQ keep the heat on till the bitter-sweet end, and late-season lodging and dining deals abound.

But mud season, or shoulder season as the marketing types prefer to call it, is a time of year when most locals scatter to the nearest beach after six months of neck-deep snow. Things pick back up again with a vengeance in early June, though, with the Teva Mountain Games (www.tevamountaingames.com) - now one of the largest adventure and mountains sports festivals in the nation.

"Regardless of the time of the year, the Teva Mountain Games have easily become one of Vail's signature events," says Teva Games spokesman Ian Anderson, "and I think we've gained international recognition, at least in the adventure sports world, and it's exposed these sports to the mainstream."

Anderson says close to 30,000 spectators watched top pro mountain bikers, adventure racers, kayakers, rafters, rock climbers and trail runners duke it out for a large cash purse this past June. Always intended as finale for spring and kick-off for Vail's manic summer season, the Teva Games now merely serve to nationally highlight all the sports most locals engage in all summer long anyway.

All the sports that act as tune-ups for another epic ski season.

And the cycle continues.



Comment on "Seasonal recreation, culture guide to Vail, Beaver Creek" using the form below