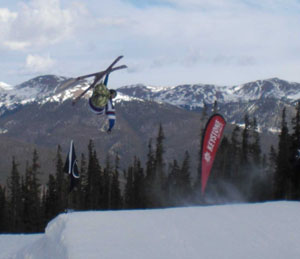 Adam Crooke launches skyward with Ski and Snowboard Club Vail
Photo courtesy of Ski Club Vail
skiclubvail.org
Blog Tools
Comments
PermaLink
Local racers headed for Junior Olympics
USSA competition set for March 5-11 at Beaver Creek
By Ski and Snowboard Club Vail
February 26, 2009 — An incredible 19 of the Ski & Snowboard Club Vail J3 racers have qualified for the 2009 USSA Rocky/Central J3 Junior Olympics to be held at Vail and Beaver Creek March 5 -11.

After a season of Junior Olympic qualifying events, and after some great results at the Winter Park Junior Olympic Qualifiers on Feb. 15 and 16, the following SSCV athletes have earned their spot to represent the Rocky Mountain Division of the United States Ski and Snowboard Association to compete against other Rocky Mountain skiers, as well as skiers from USSA's Central Division.

SSCV Women going to the J3 JOs: Molly McGrew, Celine Guilmineau, Katharine Irwin, Mallory Slicker, Isabelle Zaik-Hodgkins, Caroline Byrne, Eva Spaeh, Olivia Swift, Kendall VanHee, and Kiersten Weiss.

SSCV Men going to the J3 JOs: Nick Braun, Anthony Romano, Barry Brinton, Thomas Walsh, Alex Leever, Thomas Grant, Connor Reynolds, Greycody Johns, Nick Santaniello, and Nicky Romano.

There is one more opportunity for ski racers to qualify for the J3 JOs in the Council Cup at Ski Cooper Feb. 28 through March 2 where athletes will be racing in a super-G, two giant slaloms, and two slaloms.


Freestyle Junior Olympics

As with the Alpine skiers from SSCV, after a season of Junior Olympic qualifying events three freestyle skiers from SSCV have earned their berths for the JOs as of Feb. 20, with a chance for one more to make it. For these skiers, the Junior Olympics are a national event and will be held at Waterville Valley in New Hampshire March 9-15.

SSCV Freestyle skiers qualifying for the Junior Olympics: Heidi Kloser, Kristi Waring, and Andre Lane.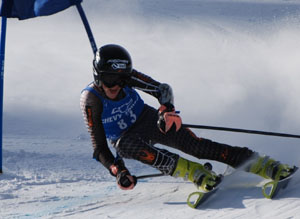 Nick Braun riding the slopes


SSCV Freeride Team

SSCV's Freeride team has had some outstanding results. "The coaches and athletes have been on a whirlwind of events and are just now taking some time to breath," said Freeride Program Director Noah Brooks.

This past weekend in Aspen, SSCV's Kendall Deighan finished in first in half-pipe. Deighan also took home the Rocky Mountain Freestyle Athlete of the year. Deighan has won all of the USSA contests she has been in this year except for one.

Adam Crooke, another SSCV standout athlete walked away with the Rocky Mountain Freestyle Rookie of the year. Coach Noah Brooks said, "Deighan and Crooke have been working really hard, and I am very proud of their accomplishments."

Also qualified are seven athletes to the Junior Olympics in Waterville Valley, NH. Adam Crooke, Michael Wilhelm, John Leonard, Tanner Coulter, Christian Revello, Broby Leeds, Christian Pellerito, and Kendall Deighan will all battle it out with the top juniors in the country on March 11-12.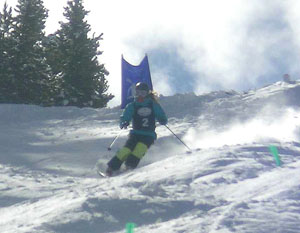 Kristi Waring racing the gates

On the pro side of things the accomplishments have also been outstanding. Angeli VanLaanen took first place at the first Park City World Cup for half-pipe. At the Aspen Open Kendall Deighan took seventh place overall in half-pipe and Kristi Leskinen took second place for slopestyle.

On the Big Mountain side of things the Freeride Team just returned from Crested Butte for the US Freesking Championships. There was a big field of participants and all the kids skied well.

After the first day, Lizzie Seibert and Christian Nichols sat in first place. Gunnar Hamina and Max Darsonval both qualified to the finals as well. On the final day Lizzie skied very well and earned a second place overall finish.

Christian Nichols went head to head with some very talented skiers and wasn't able to keep his feet underneath him and fell in his final run. Gunnar Hamina skied great and finished in 12th place and Max Darsonval finished in 24th place.

"Thus far we are all so excited with the results that these kids are putting out. It has been such fun to see everyone excel and improve daily. From my perspective we have a group of champions being formed right now and it is going to be exciting to see where they go in the years to come," said coach Brooks.

The next stops for the Freeride Team are the US Open, Junior Olympics, European Open, USSA Nationals, and USASA Nationals. There are many more chances for each of these kids to put out extraordinary results and we look forward to it.


2 Comments on "Local racers headed for Junior Olympics"