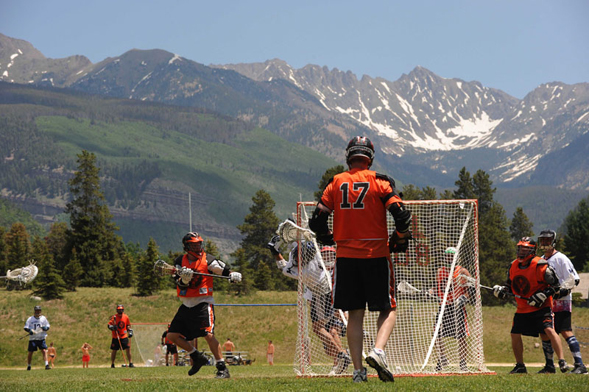 Although this great photo isn't of the Boys U-19 division, rest assured some great images will be forthcoming from Dave Gottenborg, who is shooting the tourney for vaillacrosse.com.
Dave Gottenborg
vaillacrosse.com
Blog Tools
Comments
PermaLink
Vail Lacrosse Boys U-19 scores and upcoming games
By Alex Smith
July 1, 2008 — Div. I Semifinal #1 – Colorado Favorites 10, Team Ohio 5

In the first Boys U19 semifinal, the Colorado Favorites – aka Victorious Secret – surprised many with a comfortable 10-5 win over Team Ohio.  The Favorites played an inspired brand of team ball and smothering defense, never trailing en route to a Championship Game appearance.  Trailing early in the game, Team Ohio never really got it going and had many opportunities to finish go wasted.

Several players for the Favorites stuck out, including face-off midfielder Chase Calkin and middie Jonas Kurronen, both from Mullen High School in Denver.  Calkin went 15/19 on draws, a lot of which ended up in the stick of Kurronen.  In the end, the face-off play of Calkin and Kurronen helped keep Ohio at bay as the favorites had many more possessions. 
Alex Demopoulos, an attackman from Connecticut who will be attending the University of Denver, put on quite a show against Ohio's impressive defensemen, scoring 3 goals.  RC Willenbrock from Cherry Creek High School had 3 goals as well while midfielder Ricky Giancola pitched in with 2 tallies.  Team Ohio was led by "Rooster" Wilfong's 3 goals and the strong play of midfielder Nick Beatie and defenseman Conor Greissing.
Ohio simply took too many penalties to draw close in this affair and had trouble with a very stout defensive effort from a Favorites team that was put together through text messages and emails over the past couple of weeks.  The players hurriedly got the team assembled after another entry backed out of the tournament and now find themselves one win away from a U19 Championship.  This win was no fluke, however, and the Favorites won in all aspects of game-play.  Standing in their way will be the Baltimore Crabs, who handled Team Colorado 10-7 in the second semi.
Div. I Semifinal #2 – Baltimore Crabs 10, Team Colorado 7

Jumping out to an early 5-0 lead, the Baltimore Crabs never looked back and held on for a 10-7 semifinal victory over Team Colorado in the afternoon semifinal at Avon Park.  An airtight defensive effort that left little room for error gave the Crabs a relatively comfortable victory, despite Colorado's valiant effort at the end to tighten the score.
The game was not without emotion as both teams exhibited a strong desire to win the game and mixed it up with each other like a pair of old rivals.  Over 15 penalties were called as the teams exchanged some big hits and a little trash talk as well.
Face-off man Justin Radebaugh was stellar for Baltimore, winning 17 of 21 draws and mixing it up in the midfield for his team.  The Crabs simply were better throughout in this contest and never gave Team Colorado a good look at the game.  In many ways, it was similar to the first semifinal.  First half goaltender MJ Leonard made 7 stops while Peter Stewart finished with 6 in the second half for the Crabs.
Eric Smith led the Crabs with 2 goals and 1 assist while Henry Miketa scored 4 goals for Team Colorado.  The Crabs will have to go through another Colorado team on Wednesday in order to win their third straight Boys U19 Championship in Vail.
Other U19 News:

The Winnipeg Wolverines made waves, coming back from a 9-3 third quarter deficit to defeat Midwest Elite in Division II play.  The Wolverines have been getting a little bit better every year and will play on Ford Field for the Consolation Championship against the Kansas City Blue Lions tomorrow.  Team Utah and the Delaware Eagles will compete for 5th place after defeating Triad Lacrosse Club and Team Indiana respectively in the Division I bracket.  Tomorrow's third place in Division II will be decided by a Round Robin day of games between Midwest Elite, Sacramento Elite and Team Nebraska at Donovan Park

Lacrosse action continues all week throughout the Valley. To see a schedule and learn more, visit www.vaillacrosse.com

Boys U19 Scores:

Div. I Semifinal – Colorado Favorites 10, Team Ohio 5

Div. I Semifinal – Baltimore Crabs 10, Team Colorado 7

Div. I Consolation – Delaware Eagles 12, Team Indiana 2

Div. I Consolation – Team Utah 8, Triad Lacrosse Club 5
Div. II – Sacramento Elite beat Team Nebraska

Div. II – Winnipeg Wolverines 14, Midwest Elite 13

Div. II – Kansas City Blue Lions 8, Sacramento 7
Wednesday Games:

Div. I Championship – Colorado Favorites vs. Baltimore Crabs – 1:00 pm – Ford Field

Div. I 3rd Place – Team Colorado vs. Team Ohio – 10:00 am – Athletic Field

Div. I 5th Place – Team Utah vs. Delaware Eagles – 11:30 am – Athletic Field

Div. I 7th Place – Triad Lacrosse Club vs. Team Indiana – 8:30 am – Athletic Field
Div. II Championship – Winnipeg Wolverines vs. Kansas City Blue Lions – 11:00 am – Ford Field

Div. II Consolation – Midwest Elite vs. Team Nebraska – 8:30 am – Donovan Park

Div. II Consolation – Sacramento Elite vs. Team Nebraska – 9:30 – Donovan Park

Div. II Consolation – Midwest Elite vs. Sacramento Elite – 11:10 – Donovan Park

Comment on "Vail Lacrosse Boys U-19 scores and upcoming games" using the form below