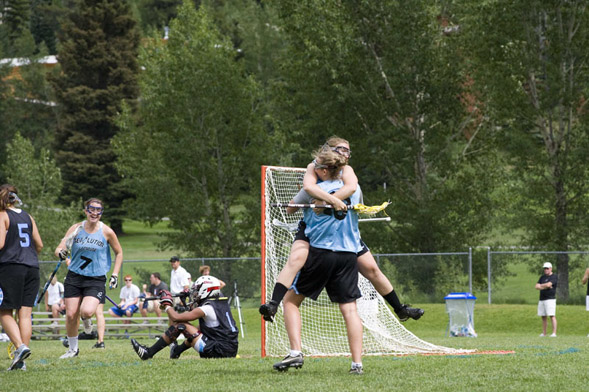 Blog Tools
Comments
PermaLink
Vail Lacrosse Shootout day 7
By Alex Smith
July 5, 2008 —
One major upset in the Men's Elite quarterfinals highlighted Day 7 at the Vail Lacrosse Shootout as AIG-LIVESTRONG defeated LaxGrip to move to the semifinals.  Several Independence Day quarterfinals were quite entertaining as Team 21, Reebok and Merrill Lynch all earned spots in Friday's semifinals.
In the Women's Elite division, the teams separated into Gold and Silver Divisions as they completed their second day of Pool Play.  7 teams moved into the Gold Division, including Dos Brisas Lax, a team that has been tearing through their competition.
Don't forget to check out the tournament blog on the home page of www.vaillacrosse.com and our daily batches of photos at www.vaillacrosse.com/2008/pictures. 

------------------------------------------------------

Men's Elite

Reebok, the tournaments #1 overall seed had the easiest go of it on Friday, defeating the Club All-Stars 16-5 to move into the semifinals.  They will have a rematch against Pool A opponent Merrill Lynch/Lacrossewear, who beat the Lofers 12-8.  Team 21's 12-11 win over the Arizona Mermen came down to the wire.  They will match up against AIG-LIVESTRONG, who upset LaxGrip 13-11 in the other semifinal.  Consolation bracket games continue to take place at Edwards as the tournament passes its halfway point.
Results:

Quarterfinals –

Reebok 16, Club All-Stars 5

AIG-LIVESTRONG 13, LaxGrip 11

Merrill Lynch/Lacrossewear 12, Lofers 8

Team 21 12, Arizona Mermen 11
Consolation Bracket –

Team Rubi Rey 10, Footclan/Team California 6

Team Valhalla 14, The Generals 13

Brine Elite 8, Team Gutman 5

Rock-it Pocket 10, Team Black Seal 5

Rocky Mountain Oysters 6, 5280/Tap Room 5
Saturday Games:

Semifinals –

Team 21 vs. AIG-LIVESTRONG – 11:00 am – Ford Field

Reebok vs. Merrill Lynch/Lacrossewear – 1:00 pm – Ford Field
Consolation Games –

LaxGrip vs. Arizona Mermen – 9:00 am – Ford Field

Club All-Stars vs. The Lofers – 11:00 am – Ford Field

Black Seals vs. 5280/Tap Room – 8:30 am – Edwards Turf

The Generals vs. Team Rubi Rey – 10:30 am – Edwards Turf

Brine Elite vs. Team Valhalla – 12:30 pm – Edwards Turf

Rock-it Pocket vs. Rocky Mountain Oysters – 2:30 pm – Edwards Turf

Team Gutman vs. Footclan/Team California – 4:30 – Edwards Turf

------------------------------------------------------

Women's Elite

The Women's Elite concluded their Pool Play on Friday and will move to tournament brackets on Saturday.  The four pools were consolidated to two divisions as a tournament champion will be crowned on Sunday.
Results:
Pool A:

Gang Green 7, Colorado Chillax 5

Revolution 18, Minnesota 4
Pool B:

Team Xtreme 13, Tap Room 5

Dos Brisas Lax 18, Team Wild 5

Dos Brisas Lax 18, Team Xtreme 4

Team Wild 13, Tap Room 8
Pool C:

ReLaxers 13, BAMF 10

Team 180 9, AOB 8
Pool D:

Lax World Colorado 14, QC Lax 4

Lax Hut 13, CRSLAX 6

CRSLAX 12, Lax World Colorado 11

Lax Hut 18, QC Lax 1
Gold Division:

AOB

Lax Hut

Team Xtreme

Revolution Gang Green

Dos Brisas

CRSLAX

Team 180
Silver Division:

BAMF

Lax World

Tap Room

Colorado Chillax

Minnesota

Team Wild

QC Lax ReLaxers

Comment on "Vail Lacrosse Shootout day 7" using the form below