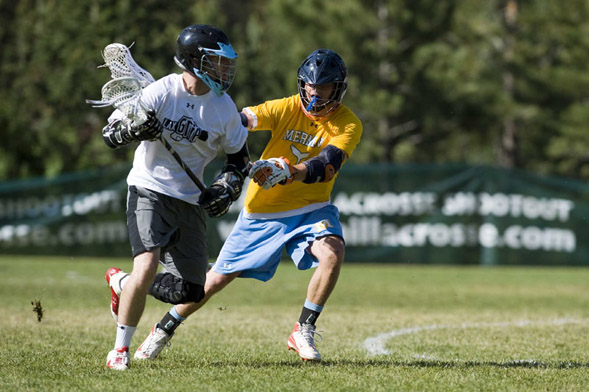 Blog Tools
Comments
PermaLink
Vail Lacrosse Shootout day 8
By Alex Smith
July 6, 2008 — Semifinal day at the Vail Lacrosse Shootout saw two extremely entertaining match-ups in the Men's Elite Division as Reebok and Team 21 moved on to the finals tomorrow at 1:00 pm.  Reebok needed two overtimes to get past Merrill Lynch/Lacrossewear and Team 21 defeated AIG-LIVESTRONG. 
The women had an extremely busy day, with each team playing two games apiece as the quarterfinals and semifinals of each division were completed.  Dos Brisas Lax and Revolution Lacrosse will face-off for the Women's Elite title tomorrow.
Don't forget to check out the tournament blog on the home page of www.vaillacrosse.com and our daily batches of photos at www.vaillacrosse.com/2008/pictures.  We also have a growing network of online media links.
------------------------------------------------------

Men's Elite

Games on Saturday were extremely competitive up and down the bracket as teams got through their third day of play.  Team 21 started the semifinals with a 10-8 win over AIG-LIVESTRONG while Reebok defeated Merrill Lynch/Lacrossewear in double overtime, 13-12. 
Team 21 was led by a strong performance from their defense as well as a 5 goal performance from Charlie Perry to secure their victory and move to the Men's Elite Championship for the first time in team history.  Christian Pastirik pitched in with 1 goal and 2 assist as well.  Team 21's key run came at the end of the third quarter and beginning of the fourth as they strung together four straight goals to turn a 6-5 deficit into a 9-6 lead.
For Reebok, it took a supreme effort to down Merrill Lynch in the other semifinal.  After leading 4-1 at the end of one quarter, ML came storming back in the second to make it a game and stayed tight throughout.  Max Ritz had a great game for ML, tallying 5 goals and 1 assist, but Adam Donegar matched that effort with 5 goals, including 1 two-pointer.  Not to mention, Donegar fired home the game winner in double overtime on a outside burner with :43 left in the second frame.
It will be Reebok's fourth straight appearance in the Men's Elite Championship and Team 21's first tomorrow at 1:00 pm.  The third place game between AIG-LIVESTRONG and Merrill Lynch will be at 9:00 am while the Consolation Championship between Rock-it Pocket and Brine Elite takes place at 11:00 am. 
Results:

Semifinals –

Team 21 10, AIG-LIVESTRONG 8

Reebok 13, Merrill Lynch/Lacrossewear 12 (2ot)
Consolation Games –

LaxGrip 17, Arizona Mermen 8

The Lofers 12, Club All-Stars 5

5280/Tap Room 14, Team Black Seal 8

The Generals 9, Team Rubi Rey 7

Brine Elite 19, Team Valhalla 8

Rock-it Pocket 8, Rocky Mountain Oysters 7

Team Gutman 15, Footclan/Team California 3
Sunday Games –

Elite Championship – Team 21 vs. Reebok – 1:00 pm – Ford Field

3rd Place – Merrill Lynch/Lacrossewear vs. AIG-LIVESTRONG – 9:00 am Ford Field

5th Place – The Lofers vs. LaxGrip – 10:00 am – Edwards Turf

7th Place – Arizona Mermen vs. Club All-Stars – 10:00 am – Edwards Grass
Consolation Championship – Rock-it Pocket vs. Brine Elite – 11:00 am – Ford Field

11th Place – Team Valhalla vs. Rocky Mountain Oysters – 8:30 am – Edward s Turf

13th Place – The Generals vs. 5280/Tap Room – 11:30 am – Edwards Turf

15th Place – Team Rubi Rey vs. Team Gutman – 11:30 am – Edwards Grass

17th Place – Team Black Seal vs. Footclan/Team California – 8:30 am – Edwards Grass
------------------------------------------------------

Women's Elite

The Women's Elite concluded their Pool Play on Friday and will move to tournament brackets on Saturday.  The four pools were consolidated to two divisions as a tournament champion will be crowned on Sunday.
Gold Division

Lax Hut 12, AOB 5

Lax Hut came on the field right at game time to play the first game of the day against AOB.  They scored six goals in the first half compared to AOB's three.   Kaytlin McCormick scored a game high five goals for Lax Hut, while Lauren Uhr scored two for AOB.  The final score was Lax Hut 12, AOB five.
Revolution 14, Team Extreme 5

There was an Xtreme Revolution this morning as these two teams met. Team Xtreme got off to a sluggish start only managing one goal at half time, compared to Revolutions 8.  But Xtreme fought back with six goals in the second half.  Aj Johson contributed two goals for Xtreme.  Revolution spread the wealth with Sarah Bullard scoring 4, Kristi Dave scoring 3 and Lindsay Heggarty contributing 2.  Goalie Mollie Macklart was impressive with 5 huge saves for the Revolution.  The final score was Revolution 14 and Xtreme 7.
Dos Brisas 7, Gang Green 6

The 3rd game of the day featured the 2 teams most expected in Sunday's game.  Expectations were high and these two teams delivered.  Dos Brisas scored in the first three minutes of the game and took nearly four more minutes to expand their lead to two.  Gang Green responded with a Greta Meyer goal only to see Dos Brisas' Jessica Adam bury a rocket to reestablish a two goal margin.  The two teams traded explosive offensive surges but got no reward for most of the final 13 minutes, until Gang Green got a Kat Collins score for a 3-2 game.  Determined and creative as always, Dos Brisas scored late in the half for 4-2 half time lead.

Dos Brisas's Lindsay Gilbride scored a quick goal as the second half began to give her team a 3 goal lead.  Again, these teams traded well executed offensive thrust but each defense was up to the threat until Gang Green scored with 18 minutes left to make it 5-3.  Little scoring opportunities were there, both goalies, Gang Green's Julie Wadland and Dos Brisas' Regan Busch, kept the door to the goal closed.  They again traded quick goals as Dos Brisas maintained it's two goal lead as the game entered the final ten minutes.  Gang Green dominated the action over the next seven minutes and tied it up at 6-6 with three minutes to go.  For one final time, these teams raced up and down the field with pin point passing and creative play.  With over time looming Lindsay Glibride buried another rocket with just over a minute to play and Dos Brisas held on for a hard fought 7-6 win.
CRSLAX 8, Team 180 7

Team 180 and CRSLAX took the field next.  CRSLAX lead by Robyn Yateman and Kristen Olson took a 5-2 lead at half, which might have been bigger if not for the stellar play of goalie Anna Wallingford.  Clearly, Team 180 made necessary adjustments as they dominated play throughout most of the second half.  With 4 minutes left Jackie Koehn scored her second goal of the half to knot the score at 7-7.  CRSLAX found a way to win as Lindsey Lewis scored the game winner with 34 seconds left to send CRSLAX into the semi-finals.
Round 2 –

AOB 13, Team Extreme 9



Gang Green 9, Team 180 5



Semi-Finals:

Revolution 12 , Lax Hut 11 (OT)

Dos Brias 13, CRSLax 4



Sunday July 6th

8:00: Team Extreme vs. Team 180 - 7th Place Game

9:05: AOB vs. Gang Green - 5th Place Game

10:10: Lax Hut vs. CRSLax - 3rd Place Game
Championship Game:

Revolution vs. Dos Brisas – 11:15 am – Athletic Field
Silver Division
Round 1 –

Game 1: BAMF 12, Lax World Colorado 3

Game 2: Colorado Chillax 13, Tap Room 5

Game 3: Team Wild 14, Minnesota Northstars 4

Game 4: ReLaxers 18, QC Lax 3
Round 2 –

Game 5: Lax World Colorado 12, Tap Room 7

Game 6: Minnesota Northstars 8, QC Lax 7
Semi-finals

Game 7: Colorado Chillax 13, BAMF 4

Game 8: Merrill-Lynch ReLaxers 11, Team Wild 10
Consolation Championship – Colorado Chillax vs. Merrill-Lynch ReLaxers

3rd Place Game – BAMF vs. Team Wild

5th Place Game – Lax World Colorado vs. Minnesota

7th Place Game – Tap Room vs. QC Lax

Comment on "Vail Lacrosse Shootout day 8" using the form below