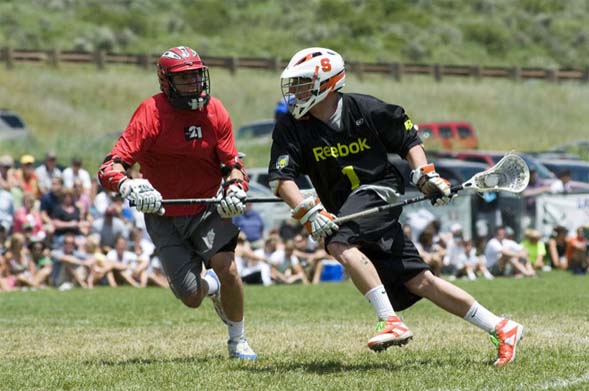 Lacrosse action will take place in the Vail Valley on June 27 - July 5, 2009.
Photo by Dave Gottenborg
vaillacrosse.com
Blog Tools
Comments
PermaLink
2009 Vail Lacrosse tournament comes to the Valley
By Alex Smith
June 22, 2009 — The Vail Lacrosse Shootout returns for its 37th edition in 2009, running from Saturday, June 27 – Sunday, July 5. As the premiere club tournament in the United States, Vail is home to some of the very best lacrosse in the world and will play host to over 60 men's teams and 30 women's teams in what has become a pilgrimage for any true lacrosse fan.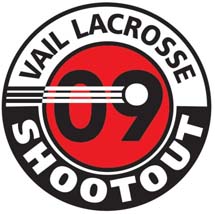 The Vail Shootout started in Aspen in 1973 and was founded by Flip Naumburg and Jim Soran. After making its permanent move to Vail in 1979, the tournament has enjoyed steady growth and become a fixture on the lacrosse landscape. More than just a tournament, the Shootout is almost a spiritual gathering. It has become a place for lacrosse "people" of all ages to come together and celebrate their sport in a tribal manner, much in the same way their Native American forefathers did.

With players competing in seven different divisions, the Vail Shootout has enough lacrosse to satiate any fan's appetite. The Men's Elite division is the headliner, taking place from July 2 – July 5 and coinciding with the Women's Elite tournament. Preceding the Elite Divisions, Men's Masters, Supermasters and Grandmasters kick off "8 Days at 8,000 Feet" on June 27. The Boys and Girls High School Divisions take the field on June 28.

Over the years, some of the world's best lacrosse players have played in the Vail Shootout. Gary and Paul Gait (Syracuse), Jen Adams (Maryland), Casey, Ryan and Mike Powell (Syracuse), Kyle Harrison (Johns Hopkins) and Michele DeJuliis (Penn State), some of the most recognized names in the sport, have all graced the Vail Valley at some point in their lacrosse careers.

This year, we are expecting Cody Jameison, and Stephen Keogh – two players from Syracuse's NCAA championship team, not to mention a plethora of players from Cornell's runner-up team on Team 21. There are projected players from the All-America teams of all four collegiate lacrosse divisions – I, II, III and the MCLA.

Visit the tournament website at www.vaillacrosse.com.


Comment on "2009 Vail Lacrosse tournament comes to the Valley" using the form below