Blog Tools
Comments
Permalink
By David O. Williams
April 10, 2010 — A game a lot of the jaded journalists covering the Olympic Winter Games like to engage in is coining the most derogatory nickname describing the shortcomings of the host city or venue. In Italy in 2006, for example, the purpose-built (by Fiat) and frankly quite hideous ski town of Sestriere became "Sewerstriere" or "Disastriere."

At Whistler – scene of the alpine skiing, sliding sports and Nordic events at the Vancouver Winter Olympics in February – the best nickname I heard was "Pissler."

Much was written about the miserable coastal weather at Whistler, where fog, rain and rotten snow plagued the lower reaches of the mountain during the Games, leading to the most delayed alpine skiing events in Olympic history.

Five of the ten medal events were postponed due to foul weather, leading to major headaches for organizers and fans – many of whom were forced to get on a bus at 5 a.m. in Vancouver for a 10 a.m. race in Whistler, only to arrive to a cancellation.

The degree to which global climate change contributed to the logistical snarl is debatable, but there's no doubt the warmth and wetness of a particularly prolonged El Niņo weather pattern made for a soggy, unpleasant mess for spectators, athletes, journalists and organizers where I worked at Whistler Creekside for three weeks.

"It's definitely not ideal having Olympics in coastal regions like that, at least from the alpine [skiing] side of things, because it's such an outdoor sport and plays into all those variables of weather and definitely makes it difficult as athletes," said Ted Ligety, a 2006 gold medalist at Sestriere who hails from much higher, drier (but still snowy) Park City, Utah. "If we held races in Utah, you'd never have a single cancelled day."

Ligety, while admitting the hypocrisy of flying around the world to ski race, has been working with the World Wildlife Fund to help spread the message of energy conservation to slow global warming. Whistler, however, would have been soggy regardless.

And a lot of people knew that going in. In my three or four trips to Whistler previous to the Olympics I always left scratching my head, wondering why the place is always top-ranked in ski magazine reader surveys. A resident of Vail, I could never figure out the allure of skiing in Hefty bags or seeing moss on the trees.

In 1995, in fact, the International Ski Federation pulled the plug on World Cup ski racing at Whistler because of the vagaries of the lower-elevation coastal weather. Denver is more than twice as high as the base of Whistler (2,140 feet), and the base of Vail (8,120 feet) is higher than the top of Whistler Mountain (7,494).

All of this adds up to a serious competitive advantage for Colorado resorts and other interior winter sports destinations with dry continental snowpack – not only for hosting future winter sports events, but also from a pure business standpoint.

"The ski industry is a business and never really had much interest in there being climate change," said Auden Schendler, director of sustainability for Aspen Skiing Company. "It's a threat to our existence. But over the last decade we've been studying the science and, really, if you come at it from scratch, you realize it's unequivocal it's a problem."

Trying to host Olympic Games even in Europe – where the base of places like Sestriere are around 6,600 feet – may become increasingly problematic, Schendler says.

"Vancouver is just one example of what's going to happen to the sport, and that is that you're not going to be able to hold events at lower elevations. In Europe there are already resorts that have closed down and they've cited climate change as the problem," he said.

"The resorts in Europe tend to be lower. In Vancouver, yes, you've always seen El Niņos and it's warm at lower altitudes at coastal resorts, but this was a durable, long El Niņo that even people working at the mountain have said was surprising."

Likewise, the world seemed surprised when Cypress Mountain just above Vancouver at a base elevation of 2,990 feet was scoured by sheets of rain during the Games. Site of freestyle skiing and snowboarding, Cypress – which was quickly dubbed "Depress Mountain" – is known for very iffy conditions, according to most locals I talked to.

Putting aside the irony of the so-called "Green Games" flying in snow by helicopter at huge expense, locating such high-profile events there would be akin to a Denver 2022 Olympic bid putting all the freestyle events at tiny Echo Mountain near Evergreen. Close to the city and very geared toward the jibber set, but hardly a world-class venue.

At least Echo's elevation is decent at about 10,000 feet, so manmade snow would hold up. Sochi, Russia, site of the 2014 Winter Olympics, may not be able to say the same.

"It's definitely difficult," Ligety said of low-elevation ski races. "But it's good to go to some different places like Vancouver, and Sochi will be neat as well. But obviously on the global warming side of things the resorts in Sochi are a little higher elevation – at the least the base – from what Whistler is, but it's one of those things you never quite know."

Actually, Rosa Khutor ski area, just 30 miles from the palm-tree-festooned beach resort of Sochi on the northeastern shore of the Black Sea, has a base elevation of only about 1,900 feet and a summit elevation of 7,611.

Despite the sometimes massive snowfall totals of the Caucasus Mountains, coastal conditions can be very challenging for ski racing or even just recreational skiing. Even the more reliable climate of Colorado is becoming warmer and drier, Schendler said.

"So you combine that with warmer nights, which makes snowmaking difficult, even at altitude, and then add in compressed seasons, and not only are winter sports events in trouble, but you've got an economic problem for the business," he said.

1 Comment on "Raining on the Winter Olympic parade: Climate change give Colorado an elevation edge"

Submit and read more comments on "Raining on the Winter Olympic parade: Climate change give Colorado an elevation edge" now!
---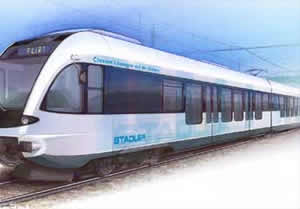 The FLIRT (Fast Light Innovative Regional Train) by Stadler is the type of light-weight regional train some rail supporters would like see serving a mountain rail system.
stadlerrail.com
Blog Tools
Comments
Permalink
By David O. Williams
April 7, 2010 — Some backers of intercity passenger rail in Colorado think that instead of a $21 billion high-speed system along the I-70 and I-25 corridors a slower-speed test rail line using existing tracks should first be built in the mountains.

Of course, it would be hard to really call it "intercity" at that point, but such a rail line could serve to showcase the passenger-rail possibilities and build taxpayer support for true high-speed rail between the state's major cities in the future.

A Beaver Creek resident and former IBM executive is seeking more than $1 million in seed money to go after state and federal grants in order to lease the dormant Union Pacific rail lines in Eagle County. Vince Cook's "Greenport" project is a $650 million concept to connect seven green-built workforce housing villages between Dotsero, Minturn and possibly Leadville.

Such a rail line would mostly run along I-70 from basically the east end of Glenwood Canyon through the Eagle County Regional Airport – one of the busiest on the Western Slope – past the ski resorts of Beaver Creek and Vail to the former mining and railroad towns that have morphed into bedroom communities for workers at the high-end resorts.

There's a disconnect in mountain towns between workforce housing people can afford and the price of real estate in the resort destinations where most of the jobs are. Workers have been forced farther and farther out, putting pressure on local roads and public transportation.

"My approach was (rail) would make it more complex but more powerful," Cook told the Vail Daily, adding that he feels uniquely qualified to work with railroad and government officials because of his business background. "I think I know what pew of the church I need to sit in for this."

Harry Dale of the Rocky Mountain Rail Authority, an intergovernmental group that last month completed a $1.5 million high-speed rail feasibility study for I-70 and I-25, said using existing freight rail lines is highly problematic because of the configuration of tracks, liability issues and federal rules governing the types of passenger trains that can share freight rail tracks.

Still, he's heard talk of an Eagle County rail line, where he says light-weight, composite European passenger trains could run on tracks modified to 110 mph capacity, which means they would actually then be able to reach speeds of up to 60 mph. Such a system could then conceivably connect to other resort communities with similar housing and transportation issues.

"If you could make Eagle County Airport your hub, then you could do some 110 diesel, and in fact in our study we do look at extensions to Steamboat, extensions to Aspen and extensions to Glenwood Springs – just improving those tracks and running those high-tech diesel trains," Dale said.

Such a transit system would be an obvious tourism draw, but the emphasis of the Greenport project is transporting and housing resort workers. Other rail proponents see a 2022 Colorado Winter Olympic bid as the best way to build either a mountain rail system or dedicated high-speed rail line along I-70 between Denver and the resorts.

Dale said the most popular and lucrative section of high-speed rail identified in the RMRA's study is a $9 billion stretch between Denver International Airport and Summit County, home to four ski areas east of Eagle County that are highly popular with Front Range day skiers.

Union Pacific's Tennessee Pass rail line from Pueblo, which runs up through Leadville and over Battle Mountain Pass into the Eagle River Valley, has been dormant since the 1990s. It connects at Dotsero - some 50 miles west of Vail on I-70 - to a northern line that continues to the west through Glenwood Canyon and to the northeast along the Colorado River to Kremmling.

The northern line, still very much active, then runs from Kremmling southeast through the Moffat Tunnel at Winter Park and down into Denver. That's the site of the state's only true ski train, which was salvaged after nearly being scrapped this season, but it's a long an arduous ride through more than 30 tunnels.

Active tracks also run north toward Steamboat Springs at times paralleling Highway 131, and a line that used to run along Highway 82 from Glenwood Springs to Aspen was torn up and replaced by a recreation path several years ago, although the right-of-way was maintained for future transit opportunities.

It's not hard to envision a regional rail network connecting the major ski and mountain resort communities of Aspen, Glenwood, Avon, Vail, Steamboat and Winter Park. And a line even runs out of Leadville up toward Climax mine, where it could be extended into Summit County.

Yes, resort workers would likely be regular riders on such a system, easing traffic congestion, parking problems and environmental impacts. But the benefit to tourists and economic advantages accruing to Colorado would also be enormous.

Submit a comment on "'Greenport' plan could be part of regional mountain rail network connecting Aspen, Vail, Steamboat"
---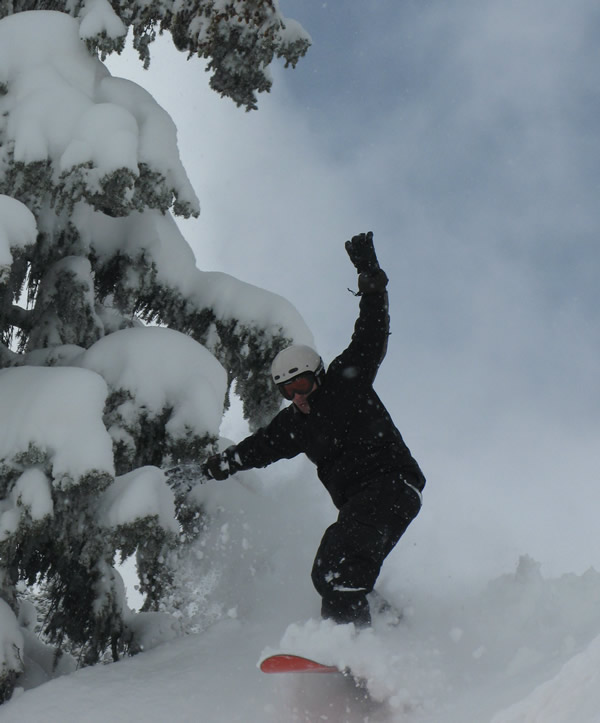 Craig Crea of Edwards rides the deep powder on Vail Mountain Wednesday, where the resort reported 19 inches new on top of 11 new the day before.
By David O. Williams
Blog Tools
Comments
Permalink
By David O. Williams
April 7, 2010 — Four feet of new snow at Vail in the last week prompted resort officials to expand the amount terrain and number of lifts that will be open until closing day on April 18.

More than 30 inches of new snow fell Monday night into Wednesday morning, with Vail reporting 19 new at 5 a.m. Wednesday - the largest 24-hour total since the 2000-01 season.

If you were up there either Tuesday or Wednesday, you know it was easily the best skiing of the season, surprisingly coming with less than two weeks to go until closing day.

"Our pass holders have been waiting all season for the kind of conditions we've had in the last few days and will continue to have through next week," said Chris Jarnot, senior vice president and chief operating officer of Vail Mountain.

"Vail's snowfall is already above the nine-year average for April, and with four feet of fresh snow in the last week alone, we're thrilled to be able to change our plans and end the season with a bang."

All three major portals accessing the mountain - Golden Peak, Vail Village and Lionshead - will be open through April 18, with the following lifts up and running:

* Avanti Express Lift (#2)
* Wildwood Express Lift (#3)
* Mountaintop Express Lift (#4)
* High Noon Lift (#5)
* Riva Bahn Express Lift (#6)
* Born Free Express Lift (#8)
* Northwoods Express Lift (#11)
* Gopher Hill Lift (#12)
* Vista Bahn Express Lift (#16)

The following lifts and surrounding terrain, originally scheduled to close for the last week of the season, will now stay open until April 18:

* Sun Up Lift (#17)
* Tea Cup Express Lift (#36)
* Skyline Express Lift (#37)

Submit a comment on "Best skiing of the season prompts Vail to keep more terrain open till closing day April 18"
---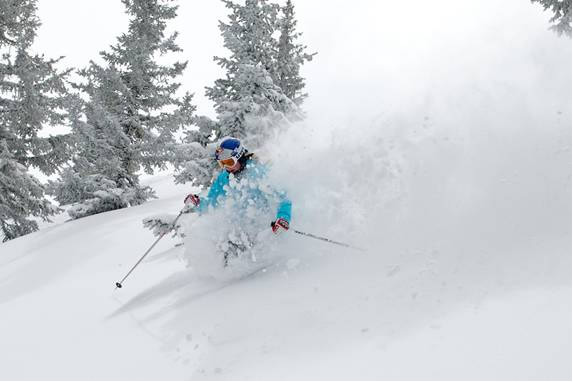 Olympic downhill gold medalist Lindsey Vonn, in town last week to dedicate her new run at Vail, Lindsey's, got in some powder turns in a foot of fresh Thursday. Similar conditions can be found today and Wednesday, with another major spring storm steamrolling the valley.
By Tom Green/Vail Resorts
Blog Tools
Comments
Permalink
By David O. Williams
April 6, 2010 — Another powerful spring storm hammered the Vail Valley with more than a foot of fresh snow Monday night into Tuesday morning and is expected to keep pumping in freshies through Wednesday morning.

Officially, Vail reported 11 inches of new snow Tuesday morning, with the Beav' totaling 13, but those reports came in a 5 a.m., and as of 8 a.m. the snow was still falling steadily. A winter storm watch is in effect until 6 a.m. Wednesday.

That means that if you can find your way up here somehow, navigating the nightmare of Vail Pass, you're going to be rewarded with small, post-Easter crowds and plenty of snow.

A season of below-average snow so far has suddenly turned serious. A storm late last week produced a foot, with a few more inches over the weekend, and now things are looking even better for a strong finish to the season.

Vail closes April 18, with an amazing Spring Back to Vail concert lineup throughout that weekend, and Beaver Creek closes April 11.



Submit a comment on "Massive powder storm pounds Vail Valley; more expected through Wednesday morning"
---
Read More Blog Entries
Previous
Next
Last
Blog entry 17 through 20 of 327 total entries
Bloggers Profile and Information