Real-E Newsletter and RSS Feeds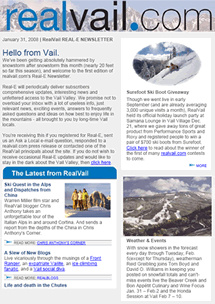 Click the above picture to see the latest Real-E Newsletter or
click here

Welcome to the sign-up portal of realvail.com's Real-E Newsletter and RSS Feeds. Click on the image to the right to read the most recent Real-E newsletter in Adobe PDF file format and click on the link below for our current RSS Feeds.
Real Vail RSS Feeds
The RealVail RSS Feed will deliver the latest stories from your favorite local writers and bloggers as soon as they are posted onto our website. The RSS feed notifies your favorite RSS Reader that there is a new story and gives you an information tagline so that you can decide if you want to read more. The Really Simple Syndication (RSS) makes it easy for you to keep in touch with the Valley you love. For more information about the RealVaill RSS feed, please scroll down the page or click here. If you wish to unsubscribe to an RSS Feed, you simply need to delete the feed address from your RSS reader. To subscribe to the RealVail Headline RSS Feed, enter: http://www.realvail.com/headlines/ into you reader or click here. Our feeds are validated by feedvalidator.org
The Real-E Newsletter from realvail.com
The Real-E will periodically deliver subscribers comprehensive updates, interesting news and unfettered access to the Vail Valley. We promise not to overload your inbox with a lot of useless info, just relevant news, exciting events, answers to frequently asked questions and ideas on how best to enjoy life in the mountains - all brought to you by long-time Vail locals.
The Real-E and RealVail RSS Feeds are opt-in only features of realvail.com and we will never release your email address or information to a third-party. We just want to make as easy as possible for you, our loyal readers, to stay in touch with the Vail Valley that you love. If you are currently a subscriber and do not wish to receive occasional Real-E updates and would like to stay in the dark about the Vail Valley, then click here.
What is RSS?
RSS, sometimes known as Really Simple Syndication, is a popular means of sharing content (such as our headlines and blogs) without requiring readers to constantly visit a Web site to see what's new. RSS feeds contain headlines and hyperlinks to longer articles or Web pages. realvail.com's feeds are free of charge for non-commerical use.
How can I receive RSS feeds?
Desktop software applications known as news readers or aggregators can collect, update and display RSS feeds from a wide variety of sources. A number of news readers are available for you to download, many at no cost. Other versions are Web and browser-based. News readers vary slightly in how they look and act, so you may find yourself testing several before settling on one. Google, Yahoo! and other have online rss readers. Windows Vista and Macs have widgets to read the RSS as well. Here is a list of downloadable readers too:
List of Readers
.
What are the terms of use for the realvail.com RSS feeds?
By using the realvail.com RSS feeds, which are part of the realvail.com site, you agree to be bound by the site's
Terms of Use. Click here to read them
. Individuals may use the realvail.com RSS feeds free of charge for their personal, non-commercial use only. Commerical use is available. Please
contact us
for more information on commerical use. When using the realvail.com RSS feeds, we ask that you provide attribution to realvail.com. If you provide this attribution in text, please use "realvail.com." If you provide this attribution with an image, please use the realvail.com logo that we have included in the feed itself. realvail.com also reserves the right to disable, to change, or to cease distribution of these realvail.com RSS feeds at any time, and reserves the right to require individuals to cease any and all use of these feeds at any time for any reason.