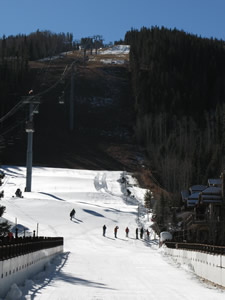 The science of snowmaking has given us Born Free for opening day, but what about Mother Nature? We need big medicine, I say, to bring natural snow to the valley.
Blog Tools
Comments
PermaLink
Time for the snow dance
By Tom Boyd
November 20, 2007 — Black Elk, where are you now?


I had become a believer by the time I came to the end of the life story of Black Elk, the Oglala Sioux shaman, as told by John Gneisenau Neihardt in his classic book ďBlack Elk Speaks.Ē Solemn and proud, Black Elk climbs to the top of a pinnacle and, to the amazement of Neihardt, conjures rain from an otherwise dry and cloudless sky.


It was Vailís second season, 1963, when Eddie Box, Jr., came to town and partook in a snow dance performed by himself and members of his Ute tribe. A few days later a snowstorm engulfed the valley, and more than a few who witnessed the event began to sense a connection. Eddie, and other tribal dancers, have been welcomed back to Vail and Beaver Creek time and time again in an effort to embue our resorts with the kind of Native reverence that, we hope, the snow gods will appreciate.


In my opinion, itís time to bring íem back.


Iím a scientific kind of guy, of a kind that believes that snow guns are a tried-and-true alternative to snow dances. But I also recognize, as any scientific person must, that the amount we know is dwarfed by that which we have yet to understand. Itís possible, just maybe, that a little bit of all-natural, Native American spirituality can convince Mother Earth that nowís the time to bring us a little more snow, a little moisture for our dry hillsides, trees, creeks and rivers.


And at the very least, Iíd like to witness another snow dance. Iíll never know how to explain it, but to me there is no performance more moving, more uplifting, than the ones Iíve seen from the Utes, the Lakotas, and the Navajos who Iíve been lucky enough to see dance here in Vail, and elsewhere, over the years.


But until Eddie comes back, Iíll have to settle for the cold, calculated machinery of the snowguns which, at the very least, have given us a place to ride on opening day.


Comment on "Time for the snow dance" using the form below