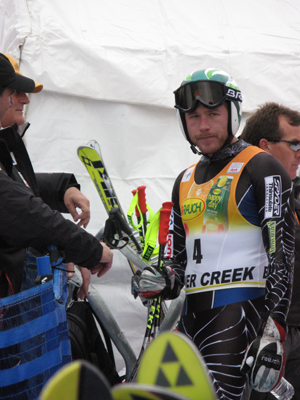 Bode was dissapointed at his downhill run in the super combined this morning, but he'll have a shot at making up for it during the slalom run this afternoon at 2:30.
Photo by David O. Williams
Blog Tools
Comments
PermaLink
Big air at Birds of Prey
By Tom Boyd
November 29, 2007 — Course conditions have made for a spectator-friendly course today during the first leg of the super combined at the Birds of Prey World Cup weekend. Course features are more pronounced, making for even bigger air off the jumps than we've seen here in years past.


The downhill portion of the super combined has shown that courage and self-control will play a big role in this weekend's speed events. Today's downhill racers are coming out of the starting gate right into "The Brink," a very steep segment of the course. I spoke with a few course workers and the report is that the course is rock hard and very, very ice – even more than usual for a World Cup race – so they key is to keep speed under control and avoid a DNF.


Didier Cuche of Switzerland leads going into the slalom after posting a downhill time of 1 minute, 13.5 seconds. American speedster Steve Nyman is second (1:13.7) and Bode Miller, who led the combined here last year after the downhill but skied out in the slalom, is sixth this year, .58 seconds back.


Comment on "Big air at Birds of Prey" using the form below