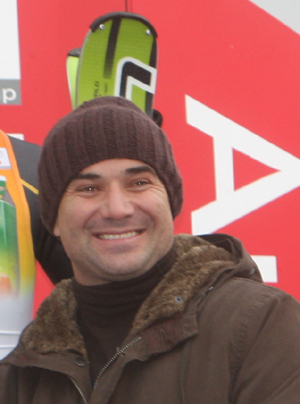 Andre Agassi delivers watches to the top three finishers at the super combined World Cup skiing event at Beaver Creek Nov. 29.
Blog Tools
Comments
PermaLink
Andre Agassi, Bode Miller, among stars at the Beaví, but Albrecht steals the spotlight
By Tom Boyd
November 29, 2007 — Here to promote a watch company, tennis star Andre Agassi made quite a stir at the Birds of Prey World Cup super combined race today, but it was Switzerlandís Daniel Albrecht who stole the show with a victory in one of the most challenging events in ski competition.


Albrecht came out tops with a time of 2:00.26, followed by Jean-Baptiste Grange of France (2:00.93) and Ondrej Bank of the Czech Republic (2:01.23).


Bode Miller put on (yet another) fantastic display of skiing prowess with a wild slalom run, yet his efforts left him off the podium by a mere 5 hundredths of a second and he finished fourth.


The American men put three skiers in the top 10, continuing their remarkable stretch of quality performances in Beaver Creek. Olympic medalist Ted Ligety made up a full second in his slalom run to place 8th (2:01.67) and TJ Lanning placed 10th (2:01.89).


Twenty-one-year-old Andrew Weibrecht , of Lake Placid, New York, skied a tremendous slalom run and marked the best finish of his career with a time of 2:02.46.


Comment on "Andre Agassi, Bode Miller, among stars at the Beaví, but Albrecht steals the spotlight" using the form below