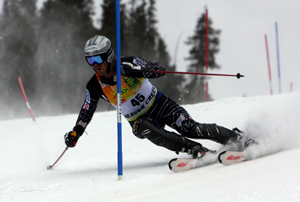 American T.J. Lanning, who placed 10th in the super combined, skies the slalom course during yesterday's competition.
Blog Tools
Comments
PermaLink
Snow affects downhill start location
By Tom Boyd
November 30, 2007 — The Beaver Creek Birds of Prey World Cup downhill is under way as I write, but the starting gate has been moved down to the "bad weather" start as snow begins to fall here.


The winning time ought to be somewhere around the 1:13 mark, and falling snow will change the track speed as we move through the 62 races slated to ski today.


My pick among the Americans today is Steve Nyman, who finished 2nd yesterday in the downhill leg of the super combined. Also watch out for Bode Miller, who was sixth in the downhill yesterday. Marco Sullivan, Scott Macartney, and 21-year-old World Cup rookie Andrew Weibrecht will also race today.


Sullivan grabbed a podium Nov. 24 in Lake Louise, Alberta, in the downhill race there. It was the first of his career, but with a good run today he could grab his second. He was ranked 8th in the overall World Cup standings coming into this weekend, tied with American Ted Ligety.


Macartney has only one podium in his eight-year career, a Super-G in 2006, but Americans have had good luck here in the US the past few years, and he could have a good run as well.


Comment on "Snow affects downhill start location" using the form below