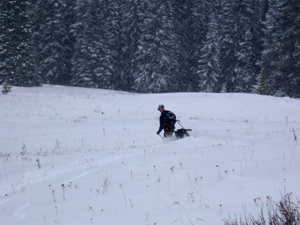 I managed a few turns in meadows like this one, where rocks are scarce and the terrain is open. That's Bode the dog chasing me down the hill, still a little confused as to how my feet suddenly became 180 cm long.
Blog Tools
Comments
PermaLink
Shrine Mountain, Vail Pass almost ready for prime time
By Tom Boyd
December 1, 2007 — People were pouring onto Vail and Beaver Creek mountain almost as fast as the snowflakes this morning when I heard the World Cup super-G had been postponed to Monday at 10 a.m., but I decided to blow against the wind this time, avoid the rush, and head into the high country.

Shrine Pass Recreation Area
Located at the top of Vail Pass on I-70, exit 190, Shrine Pass Recreation Area is quite popular with snowmobilers and backcountry skiers/snowboarders alike. All kinds of users share the little access road for the first couple of miles, but wide-open areas are designated motorized or non-motorized. The Forest Service works hard to make sure trekkers in search of tranquility and slednecks looking for a wild ride can all find what theyíre looking for.
Cost: $6 per day, $40 for season pass

With no further obligations at RealVail race headquarters I felt the kind of freedom one can only feel when an event has been cancelled and suddenly, in a moment, the dayís calendar becomes completely clear. I was still in the Beaver Creek parking lot when I looked up at the stormclouds, which seemed to be devouring Vail Pass, and I thought to myself: ďThatís where I want to go.Ē


So into the storm we went: my wife, Renee, brought snowshoes, and I gathered up the skins and skis to get my first taste of backcountry this season.


We discovered a shallow covering over Shrine Passí ski terrain. Snowmobilers are already out en force, blazing trails up to the ski terrain which awaits at higher elevations. Inspired to smell fresh pine rather than eu de tailpipe, we skinned off track and let my 8-month-old dog, Bode, tear tracks through his first-ever powder day.


I managed a few turns, but also managed to clip a few rocks. The beta on this baby is as follows: bring the rock skis and a relaxed attitude, Shrine Pass isnít quite ready for prime time. But just to be there was the thing, and it felt good to be up in the heart of the storm.


And tomorrow itís back to Beaver Creek for the giant slalom Ö Iíll be on KZYR, 97.7, starting around 8:45 a.m., prepping listeners for the big race.


Comment on "Shrine Mountain, Vail Pass almost ready for prime time" using the form below