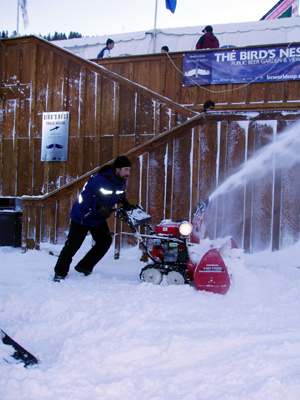 A Beaver Creek worker shovels some of the 6 extra inches which fell overnight and added to the 9 from yesterday here at Red Tail camp.
Blog Tools
Comments
PermaLink
World Cup racing back on schedule after heavy snows
By Tom Boyd
December 2, 2007 — Greetings and salutations from Birds of Prey World Cup as the giant slalom is about to get under way. Iíve got a lot to write about this morning, starting with the copious amounts of snow being pushed and shoveled and blown all around the Red Tail deck here at the Beaví Ö kinda makes me wish I was up there making turns.


But OF COURSE Iíd rather be here with KZYR providing race coverage for all the fans out there (most of whom are probably enjoying some freshies right about now).


So hereís the news: The super-G was postponed yesterday and will be run tomorrow at 10 a.m. The giant slalom course will be a bit softer today than it would be if, say, there had been a super-G yesterday.


Guys to watch for: Bode Miller (USA); Ted Ligety (USA); Massamiliano Blardone (ITA); Kalle Palander (FIN); Didier Cuche (SUI); Daniel Albrecht (SUI).


Comment on "World Cup racing back on schedule after heavy snows" using the form below