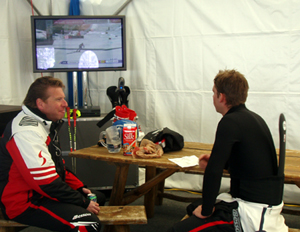 Austria's Benjamin Raich, right, who placed second in the standings overall this past season, watches race coverage with a coach from the "bird's nest" tent at Beaver Creek.
Blog Tools
Comments
PermaLink
Cuche, Blardone, Moelgg and Raich leading giant slalom
By Tom Boyd
December 2, 2007 — What do the best racers in the world eat between runs of giant slalom? Soy milk and cereal. At least, that's what Benjamin Raich was eating today when he agreed to take a moment to talk to us during our live RealVail and KZYR, 97.7 Birds of Prey World Cup coverage.


Raich, of Austria, is currently tied for third with Manfred Moelgg (ITA) after the first run of giant slalom. Didier Cuche (SUI) is leading with a time of 1:13.06, followed by last year's BOP giant slalom winner, Massimiliano Blardone (ITA). The USA's Ted Ligety is fourth (1:13.66).


Raich said course conditions were, "quite good, but soft in some places," and agreed that the morning's course was straight and fast.


He also said he had visited with rival Aksel Lund Svindal (NOR), who is in the hospital here after crashing during his training run in downhill.


Bode Miller nearly skied off course this morning after hitting a gate coming off the treacherous Golden Eagle jump, and did not qualify for the second run.


Hope is high among USA fans that Ligety can pull off some more of his second-run magic. The 33-year-old notched a second place at the first giant slalom of the year at Solden, and made up more than a second during the slalom leg of the super combined here at Beaver Creek last Thursday.


The second run of the giant slalom gets under way here at 12:445 p.m. Conditions should be sunny and bright, as they are right now up here at Red Tail Camp.


1 Comment on "Cuche, Blardone, Moelgg and Raich leading giant slalom"