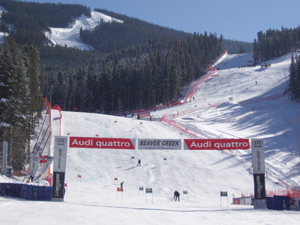 The World Cup giant slalom course at Beaver Creek was looking pristine by the afternoon, but I was eying the fresh powder hidden just out of frame.
By Tom Boyd
Blog Tools
Comments
PermaLink
Albrecht takes another victory while fans take a look at fresh powder
By Tom Boyd
December 2, 2007 — It's hard to deny that Daniel Albrecht (SUI) is having a spectacular weekend, but fans at today's Birds of Prey World Cup giant slalom might have been just as impressed with Beaver Creek's big powder and bluebird skies (more on that in a moment).


Albrecht took his first-ever World Cup victory Thursday in the super combined, and his second today with a win in the giant slalom. He was followed up by Mario Matt (AUT) and Dideir Cuche (SUI). American Ted Ligety made up 0.4 seconds in his second run, but it wasn't enough to make the podium. He finished fourth. For those of you on the Bode Miller watch, he skied off course on his first run after flying into the Golden Eagle section of the course, where sunlight promptly turns to shadow and leaves racers with a brief "black-out" period in the race. Miller tagged a gate, missed the next gate, hiked back up and finished with a time which put him 10 seconds out of the running.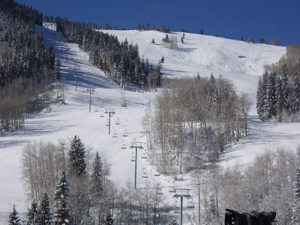 Larkspur Bowl is untouched – as of yet. Lifts open at 9 a.m. at Beaver Creek tomorrow, Dec. 3, and no word yet as to whether or not Larkspur lift will be part of the in-bounds terrain.

Tomorrow I'll be covering the super-G, which will start at 10 a.m., but anyone who can get the day off should definitely get up on the hill. I spent most of my time between runs checking out the fresh powder in Larkspur Bowl and all over the rest of Beaver Creek.


Lifts open at 9 a.m. in Beaver Creek until December 13, when they will begin to open at 8:30 a.m. Unfortunately for me, I won't have time for a run before the race, but count on seeing me up there in the afternoon … hope to see ya up there.



Comment on "Albrecht takes another victory while fans take a look at fresh powder" using the form below